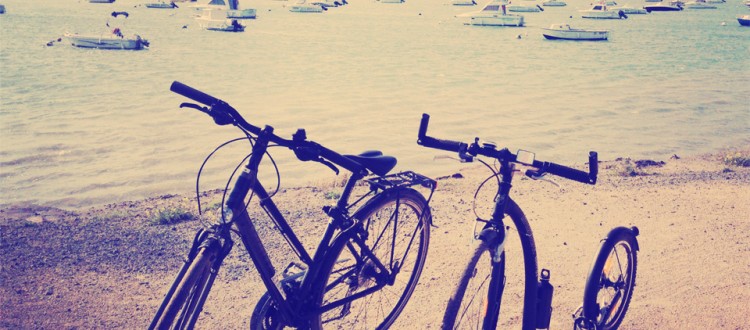 Beware reader, for this time a special guest rided beside me ! Her name ? Tarmac Terror, that's how she's called in her town. Rest assured, the panic sower is no one else but my younger sister, visiting Normandy for a few days.
It was decided that we would enjoy that precious indian summer by heating our adductors a bit : we went for an express ride with a bicycle and a footbike, very impatient to see how the duo would work out. I must say that we had a little experiment on the previous week-end, renting a town's public bike whose multi-speed transmission would not work at all. We were then, with our odd pairing, pretty convinced that riding at a proper synchronous tempo would be quite impossible. Tarmac Terror could only show, from her very skilled panoply of attacks, her first secret weapon of appeal : labouring in vain.
This time, after the renting of a proper bike, off we went towards "the sea", knowing that it would very probably be my turn to prove my value. Rapidly reassured regarding the efficiency of her legs, Tarmac Terror let herself slide through the first segment of the Green Way. She discovered the castle of Bénouville, impeccably maintained, and the Pegasus Bridge, flanked by its two cafes – you can always bet they'll be crowded with moustache men in uniforms and sophisticated English women.
The castle, and La Trottineuse in luxuriant surroundings, a very leafy beginning.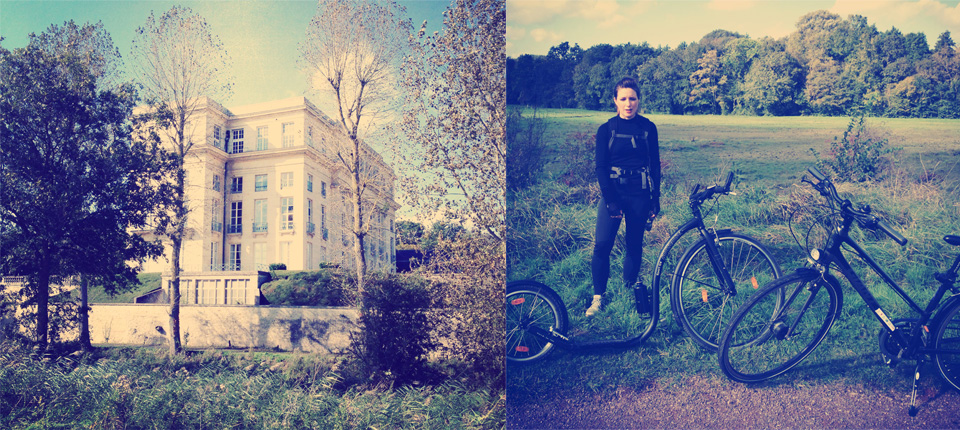 We then turn to the East, to some unknown trails towards Cabourg. But the departure was late, so in fact we did not went there, but stopped at Merville-Plage. A little 40km long training tour ! The windy and bright atmosphere reveals the strange blueish, wild and muddy bank of the Orne. Its strong current carries along loads of clay through the tall grass. Here, on the way back, we will cross the path of a hunter, be surprised by its rifle shots, and sprint to escape that place where we can be mistaken for wild gooses.
Tarmac Terror speeds up on the bank…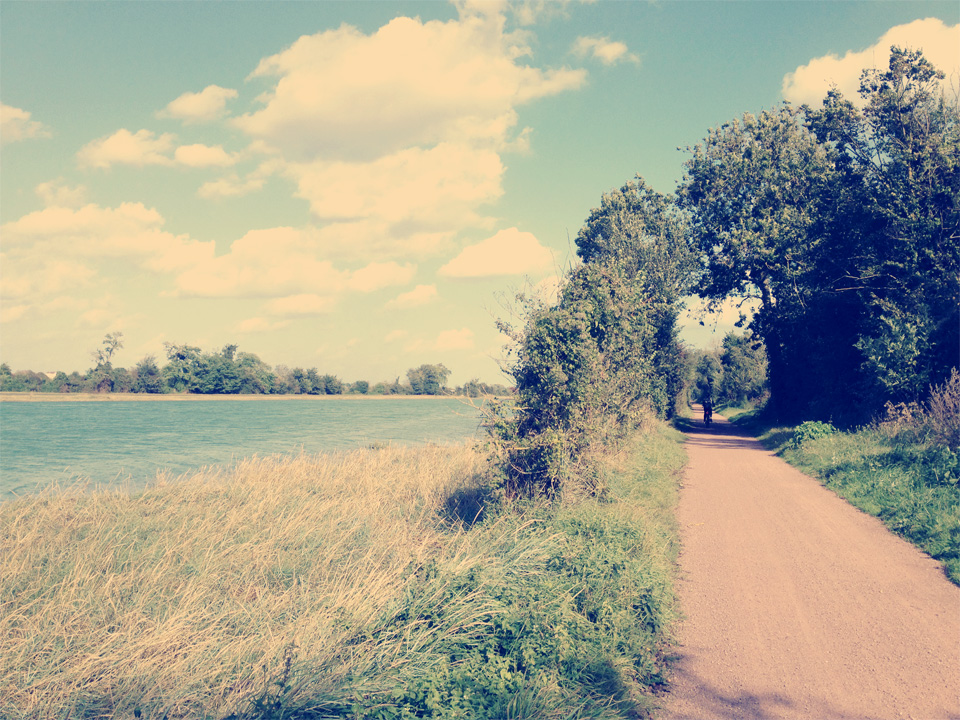 Heading to Amfreville, we encounter the first and only tough ascents. Whilst I laboriously run beside my kick bike to the top of the hill, Julie has a heroic moment, climbing the thing out of the saddle. We can feel the sea nearby, but not see it, nor find any good indication of Cabourg's direction. The Green Way being diverted, we are now relying on our instinct.
Happily enough, the next 3km are a succession of more or less abrupt descents, winding through the village and forest. How lucky was I to have brought my sport glasses ! I rate them as an indispensable item for a good anti-bugs tactic, and wonder how Tarmac Terror could not have at least swallowed a fly. But she's sometimes proud to say that she "can run between raindrops".
We have a magnificent reward for that first part of the ride, a stunning view of the Channel Sea from above, bearing a stormy light and small boats. And as we produce some awe interjections, ovine and bovine races don't blink an eye.
We are now nearly convinced that the bike/footbike pair is fully functioning, at this tempo anyway, et we rush straight to the water, as we've spotted in the faraway sky lovely coloured veils in the wind. Soon we found ourselves stucked between bramble dunes, vicious arms of sea (we ignore wether it's rising tide or not), soft sands, and indisputable signs of a public beach not far from us.
In the dunes, between rambles and water…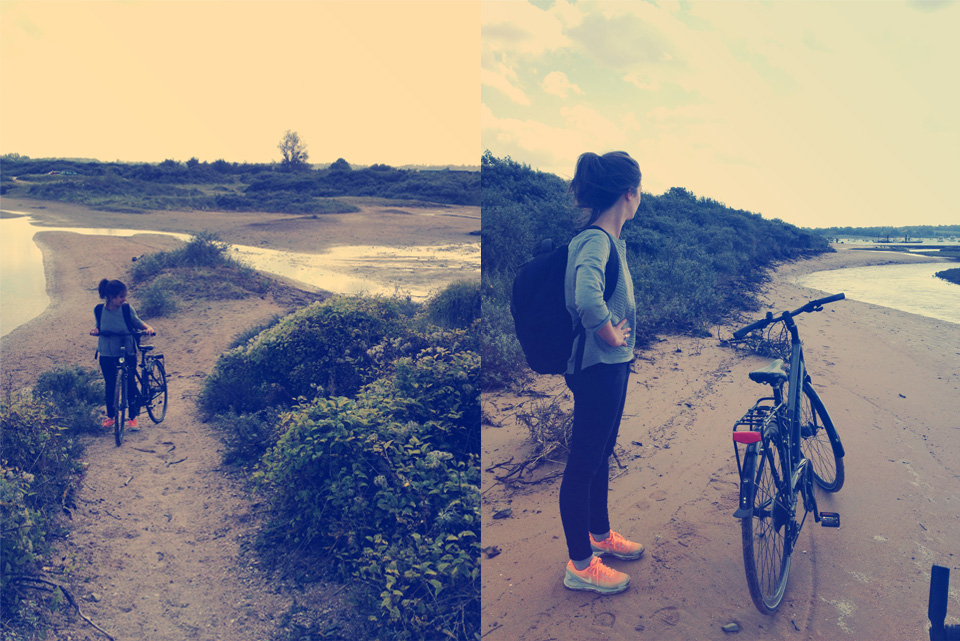 We quickly realize that clock is ticking, and that we should better be careful and not cross, our bikes on the back, the water with just our old sneakers. We therefore go on with the round trail begun, and end up in the most welcoming small café, with the most beautiful view. There we eat the morning fresh provisions.
Last steps before that wonderful landscape, which reminded us of Britanny !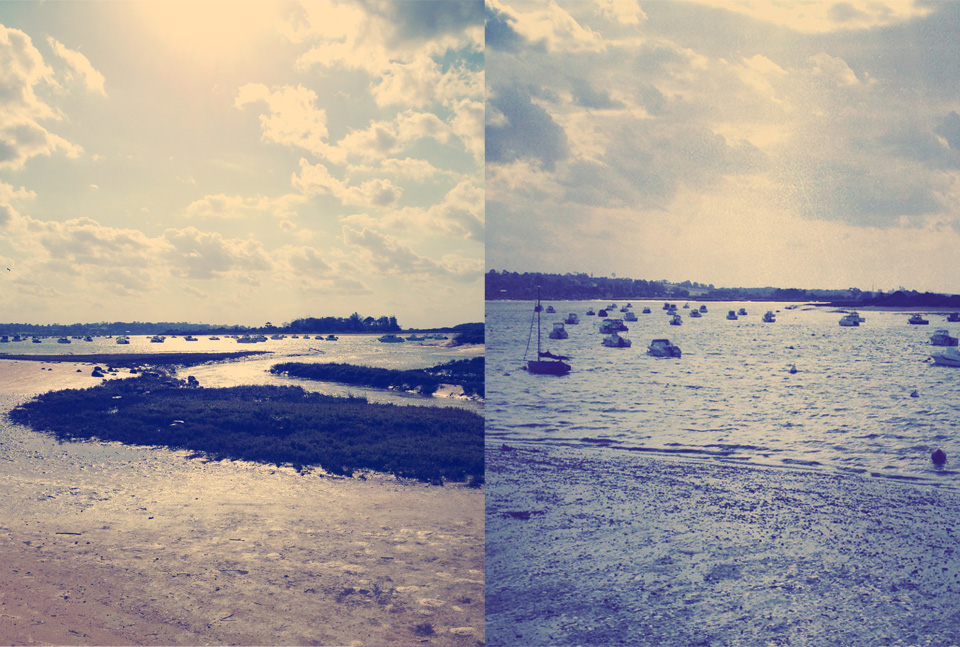 The infernal team !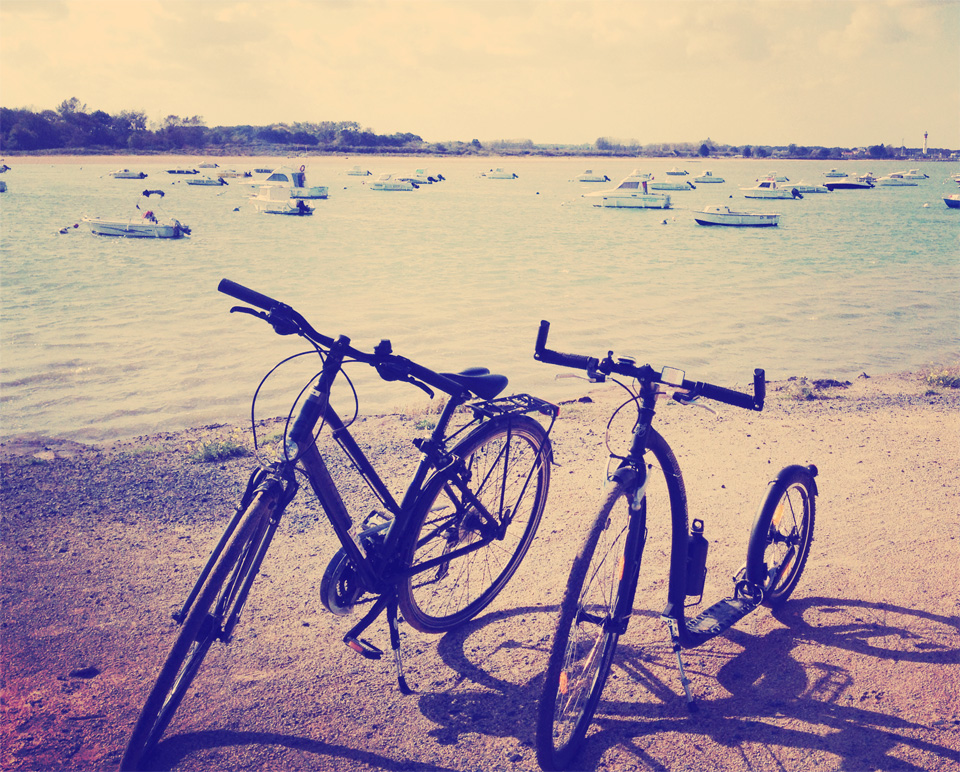 Despite a terrible front wind, we then found our way back with the Green Way, which would lead us in the heart of Caen, with a nice end-of-the-afternoon sun.
It was indeed a great ride, and I could notice that well prepared tires can considerably change the amount of efforts to be furnished. That certainly allowed me to sustain Tarmac Terror's incredible conversation rhythm – her true secret weapon for sure (thank you for the nice moments).
Everything strengthens me in the belief of continuing my coastline explorations, and beginning to spend some days in a row on route. I'll know better then the average of kilometers I can cover in a day.
Stay tuned :)
10
(Thanks, keep going !)