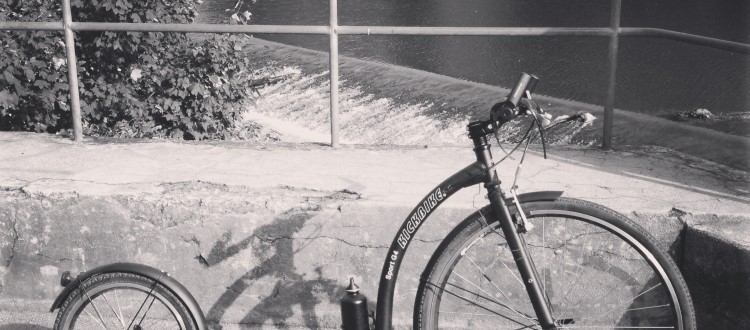 67km on the Green Way to Suisse Normande
It's noon, a bit late on saturday, but I'm getting ready to kick towards Thury. Weather is getting better, and the idea of a sunny afternoon multiplies the crave for a new ride, the memorable experience with Tarmac Terror seeming so long ago. In Normandy, one has to seize the opportunity, whatever the occupation going on.
I've already ridden on a large part of the Voie Verte network, from Caen. Around the regional capital, it's in a shiny state, been for a short while. The good local citizen has for sure noticed how commemorative events of 2014 have miraculously played a role in the public works progress. Indeed, who wouldn't update one's visiting card if Barack were to pay a little visit ! Thus we now enjoy a brand new rail station, a castle area totally refurbished, up-to-date signaling system, enhanced cycle lignes and longer, etc.
The development of those green itineraries is part of the national SN3V project (Schéma National des Véloroutes et Voies Vertes), aiming to give the country a dedicated cycle routes network. An on-going program encouraged by the AEVV (european green ways association), which supports on a european scale a transport politics that :
– preserves a number of public infrastructures (old railways, towpaths…)
– fosters non-motorised transport
– pays attention to sustainable development, environment, regional balance and employment
Therefore it's truly a regional, national and transnational meshing that's being elaborated year after year (France being a late student regarding the matter, compared to its fellow europeans partners from the North). And a one that connects local trails to the 14 european Veloroutes (45000km achieved at the day, 70000km to be). One can, nowadays, ride along one of the six EuroVelo route that rolls up through french territory.
No doubt that La Trottineuse won't stay far from those great trails very long !
But on this saturday, it's on the Green Way of the Suisse Romande that I'm kicking, equipped with a small bag, though charged a little bit more than before, in order to estimate how well it works on the back. I've taken a liter of water divided between the front tin and backpack, some food, a book, maintenance tools, a sweatshirt just in case. No helmet, but I'll miss it whilst going downhill at 34km/h and restraining the speed out of caution.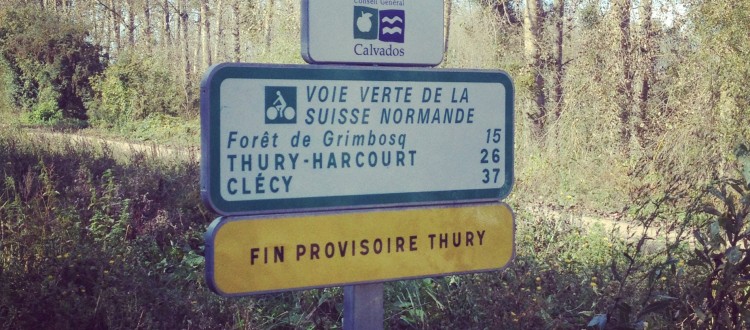 The last time I went out for a short ride, I forced a bit on the beginning, and I want to avoid a new strained muscle. That's why the slow first steps, but I'm quickly reassured concerning the left kick, not hurting in the right thigh anymore. I need about 10km to feel I'm in the optimum shape. With a nice and smooth start, I even stop regularly for some sightseeing, whenever it's offered to the eyes.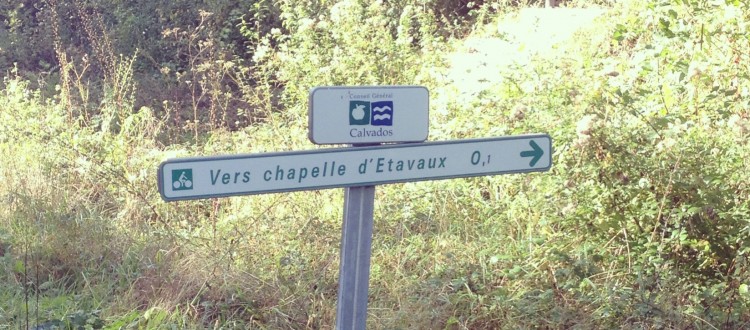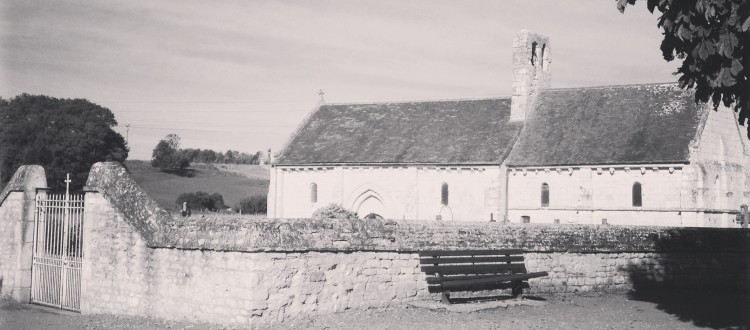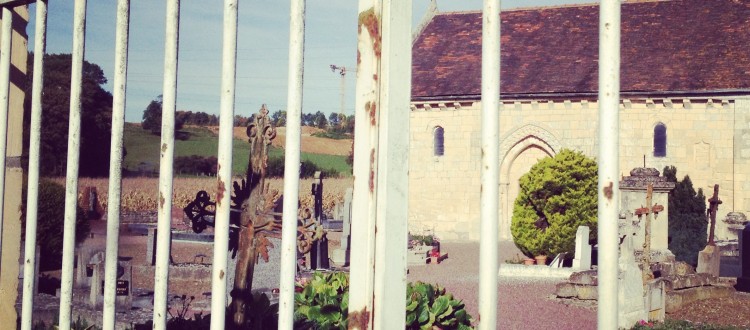 I wind on a pleasant adjusted trail, regularly coming across the railway. One which will accompany me through Thury-Harcourt. I jump on the occasion to test a few positions to see how to avoid shocks on the front of the bike. I even try to find a technique in order to jump off with it, and get the board safe when confronted to prominent obstacles. But it's no win game yet !
It's very sunny now, with a small front wind not too annoying, the road is really flat, so I ride on an average 18km/h.
One can feel the presence of the Orne at every moment, the omnipresent rustling vegetation echoing the murmuring water streams. Hither and thither lie industrial ruins, conferring the straight course a surrealist note. There is not much human beings around here, which surprises me a little.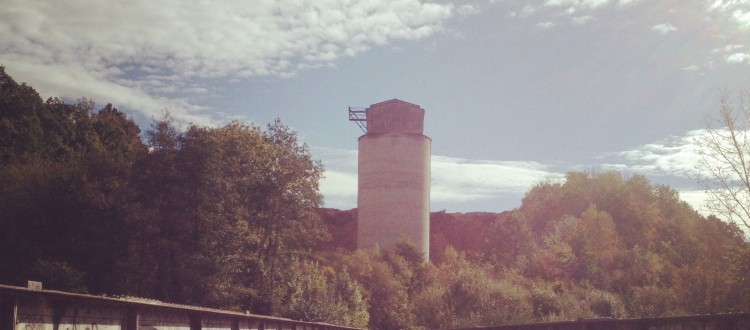 I suddenly stumble upon two cyclists eating near what I identify as a large and flat waterfall, in absence of a specific word. I stop there for a while, enjoying the landscape, sipping some water. As of now, I'm being careful with the regular drinking, for I don't want to fall in the infernal black hole of thirst. One cannot easily get oneself out of the vicious circle of dehydration, no matter the amount of liquid drunk… I eat also some dried fruits. I sense that I take many precautions, but I don't know yet exactly where the footbike will lead me, I'm hoping to cycle round and not come back by the same path, it may otherwise be a bit boring. I have only taken a small regional leaflet exposing the principle of this enabled green way. I like to explore based on my instincts, but I'll soon figure out that I might need a little bit more map support for the longest rides. I'll have to be far-sighted, to spot alternative itineraries, since riding the pédicycle on large routes with cars is particularly unpleasant.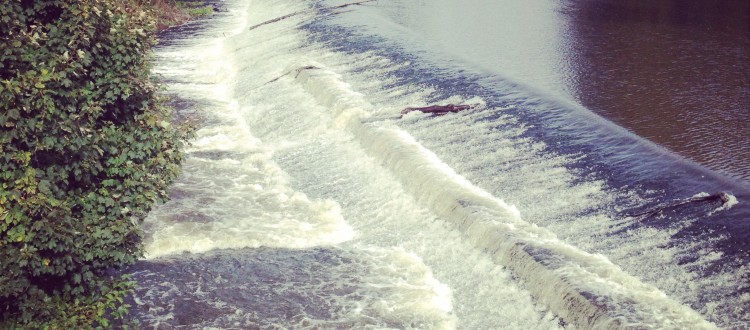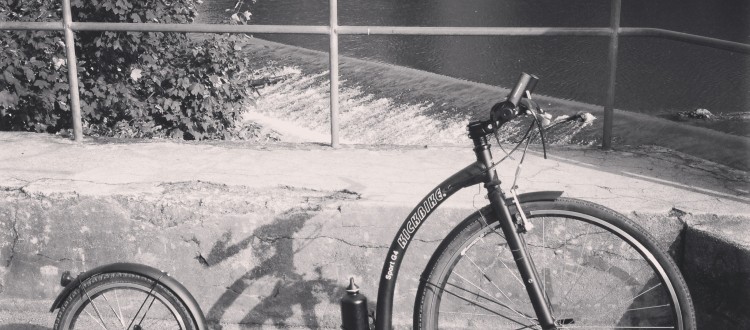 It's not excessive to state that the Orne valley is a genuine norman postcard. It's agreeable, but it could quickly become monotonous, with its long infinite straight tree-lined trails, preventing from any overview. I pass a number of typical houses, a bunch of shelters, probably from maintenance men when the railways was in activity.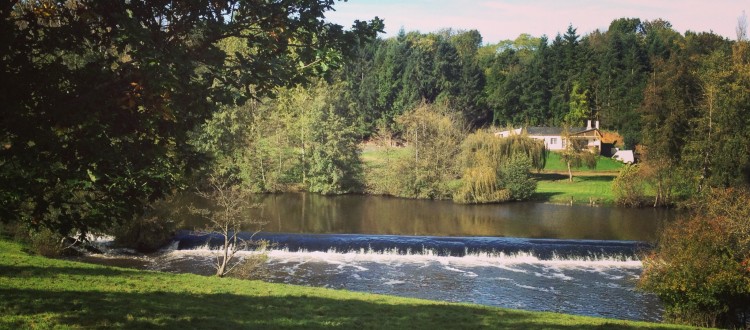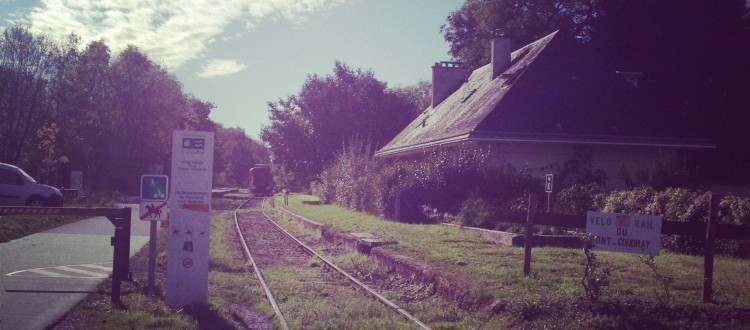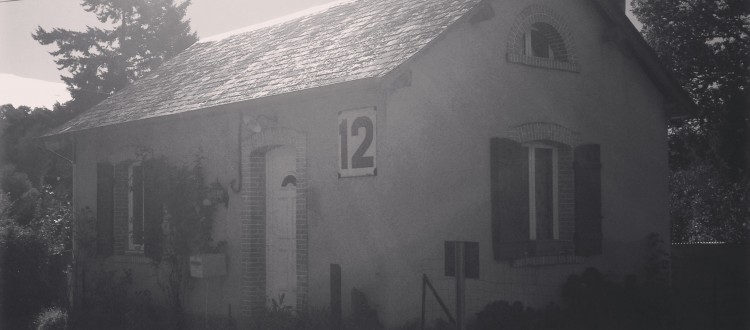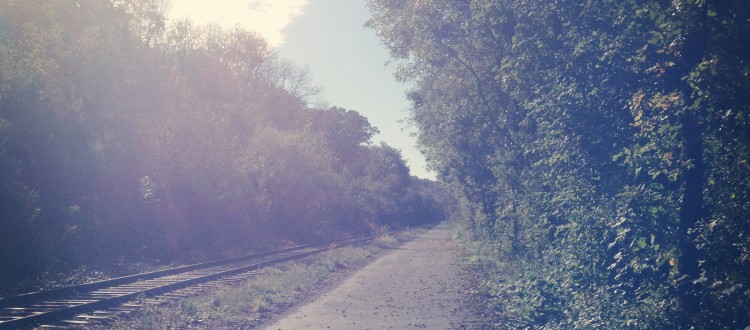 I bump into a young cat, obviously enjoying its weekend, not afraid at all by the rolling tourists it must watch all day long.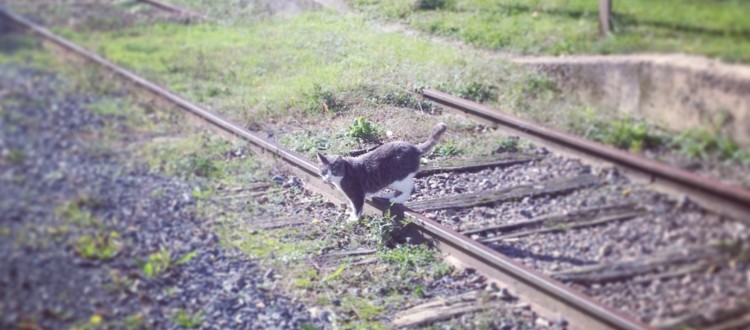 There I am, at the Grimbosq Forest, and I'm tempted by a small fun deviation, but I finally refrain the idea, hoping for an occasion to try that with more people. If I venture into the wild at this hour, I surely won't complete the initial loop I had in mind. Moreover, my hybrid tires would probably be a bit light for cross-country riding. And I don't want a flat tire 20km away from Caen, without any rubber patch or safe wheel at hand !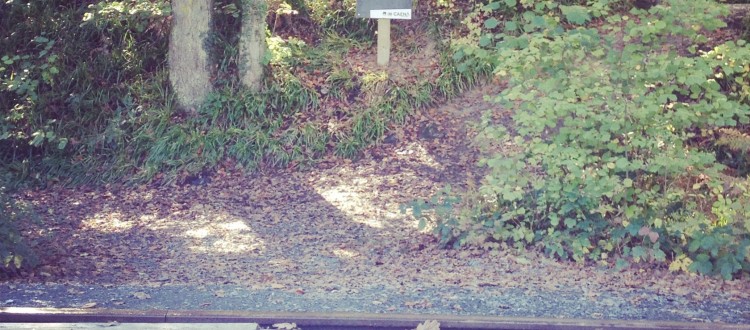 Rapidly, I find myself near Thury-Harcourt, and already far from the big town. The wooden notices and the recent green way indications don't match up, but the indicator on my footbike favors the recent veloroute figures.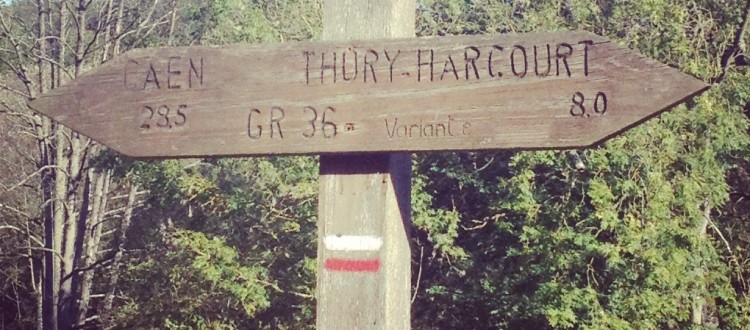 Passing by a lovely inn, I jump on the chance to hail the kitchen chef through an open window, and ask politely if my water tin can be filled up. I'll do that again on the way back, never too careful. The staff of l'Auberge du Pont de Brie is absolutely charming, and fulfills each time my wish with great kindness !
The surroundings are favourable to a little resupplying moment, I climb onto a wood table, in front of a red and blooming railway. I'm happy to see another cycling couple having lunch, and a group of rollers. No dialogue is engaged, which is quite rare with the footbike, but I can sense the curious stares when on I kick again, after a few back and arms streching. When I stopped, I could noticed that the bag, though not heavy, seemed to weights more and more. Aiming to travel with mimimum gear, I'll turn towards a rear luggage rack in order to fix the bag on it. I'm thinking of avoiding any one wheel trailer, for I feel quickly frustrated when the speed drops, and adding a wheel will only diminish the satisfying celerity potential.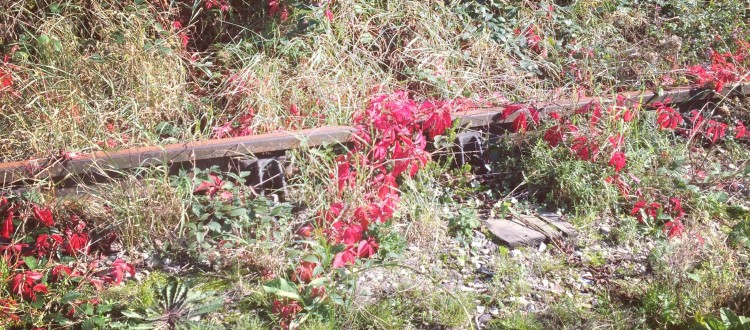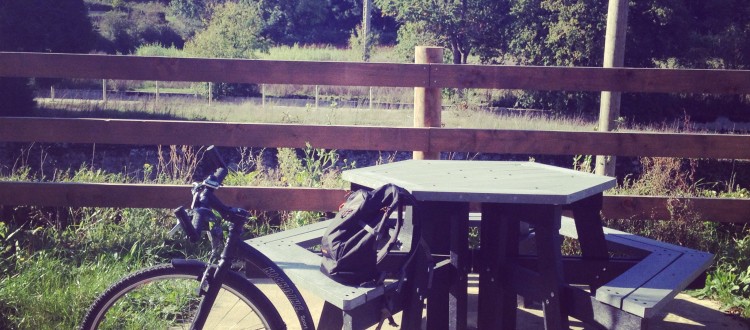 With the front wind growing and the slight uphill stretch, I struggle at 15/km, with steady efforts. I'm quite happy then to reach the end of the way. I pass more and more pedestrians and they appear very courageous darting towards miles and miles on a journey which seemed growingly toneless to me. I like a variety of paths, the sensation of exploring and choosing at intersections, being surprised by obstacles or unexpected events, changes of rhythm and landscapes. Therefore, I'm delighted to stumble upon a tunnel with an end-of-the-route signal, and some funny indications. One has to ride silently to avoid disturbing the bats nesting in there. Green Way work is on hold to respect their hibernation, and the tunnel laying out will resume at spring, 2015 ! Obama should better stay still…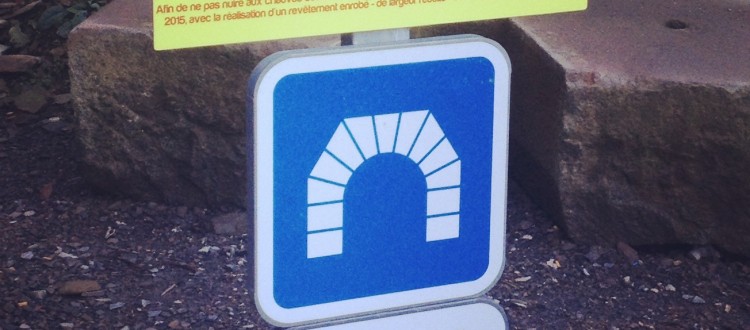 I look forwards to staring at the hundreds of nocturnal winged creatures. The entrance and inside of that rock-curved lane is quite striking, with its day and night contrast, typical of underground channels. An ancient and textured atmosphere reigns here, and I understand why little animals would choose to snuggle into here for winter. But I may very well watch out for them, I won't see any at all.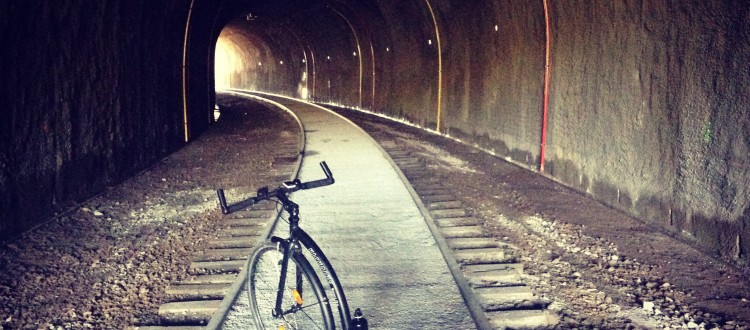 So I'm out now of the beaten track : I plan on going through Thury toward the east, to Croisilles, and start there to circle back by bigger routes, since there are few other cycling paths. I rely though on discovering alternative ways to the departmental road.
It certainly begins hard, climbing a 100m difference in heights through 2 km. No real pedestrians space on the secondary D262, so I walk at a fast pace on the side, wondering when to hop on the board again.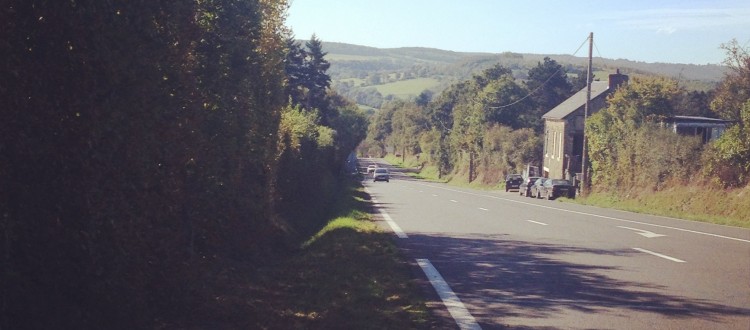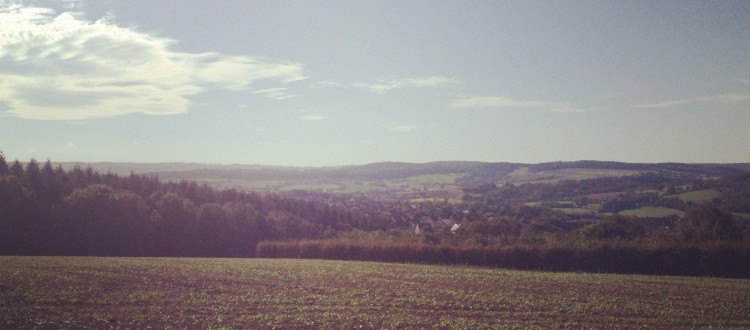 After a few unsuccessful trials, I notice a less busy road leading to my temporary objective. With a wide view and a refreshing side wind, the ascent is nevertheless very tiring, another 1,5 km with a 7% inclination. The drawback of green ways is that one can not train to climbing, due to their flat profiles. I take advantage of situation to test my resistance, inwardly shared between a slight panic considering the challenges I have in mind for the future, and the determination I have to improve the technique. I must adapt, I change the kicking foot on a 3 steps pattern, with the flying dutchman move (a one movement change of foot, with a small jump), but it's not very effective when switching from the left to the right foot on board. Before being able to identify the cause, I run near the village's church. I quickly greet an old couple comfortably seating in a car, they seem to smile a lot observing me.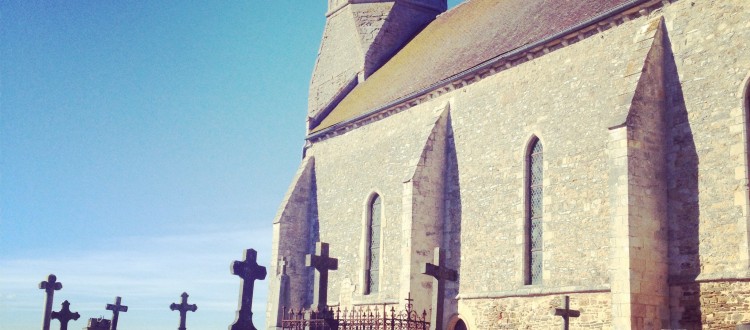 There a no more indicators now, and if I go too far towards east, I'll be back on the D262. I seek council of a man gardening in a beautiful backyard, but the man, who apparently knows every inches of the place, advise strongly against the main road, and against smaller tracks that criss-cross the very hilly countryside ! In his opinion, it's better to go back from where I come. I am disappointed, and not very willing to tear along the well-known route again. But, whilst rushing down towards the valley (I miss the helmet !), I realise that it would not be rational to venture in an unprepared berserk spin amongst cars, hoping to be back early, in a decent shape.
I get used to the idea, the perspective of the back wind and descending false flat cheering me a little. If everything goes well it should be fast and easy. It takes a few circles in the area, and the encounter of another cyclist looking for the green trail with a bread baguette on the handlebar, and I'm back there again. Pedestrians recognise me, and we laugh wholeheartedly of those repeated greetings.
Last kilometers are really hard. I am suddenly exhausted, my back begins to hurt. The kicks are not so efficient anymore, I lack a great deal of energy. I know those slumpy moments will happen regularly after a good day of efforts, and I also know that some music would be very motivating. My thighs are tired, I don't rise the knee very high anymore, and even the hands on the grip are turning stiff.
Happily, the nearer I get from town, the more dense the crowd turns, it's later in the afternoon on a saturday, it's the time of family walks with the dog and rollers. Some nice entertainment, a few shouts from the children and adults surprised by the pedicycle are enough to be motivated again, not mentioning the bath I've been thinking about for a hundred of meters !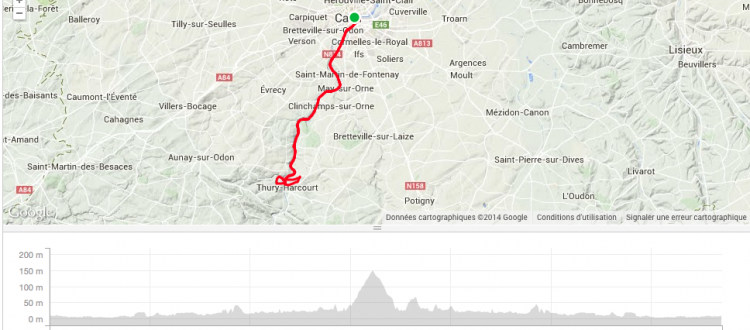 Expedition assessment :
– 67km in 5 hours, with a lot of wind, could have been worse for a third consequent ride.
– if I want to evaluate my daily average capacity for the long trips, I'll have to schedule a ride with a morning start, and prepare the journey with more route details, to avoid returning by the same path.
– Slumps can be quite sudden, mental takes over then
– I'm heading towards a very light gear trip configuration : backpack on rear track.
– I have to work on the climbing !
– The evening was depressing, my body severely tested, I had the impression that it would be hard to carry on many days in a row. But a small 30km to the sea on the next day let me rest assured.
Next objective, ride for a few days. Depending on the gear I'll have then, nights will be spent in bivouacs or hotels. A tour of the Breton coastlines perhaps, or of the North ones, though the EV4 Centre Europe running along the Channel is not really advanced in Normandy…
Stay tuned :)
14
(Thanks, keep going !)