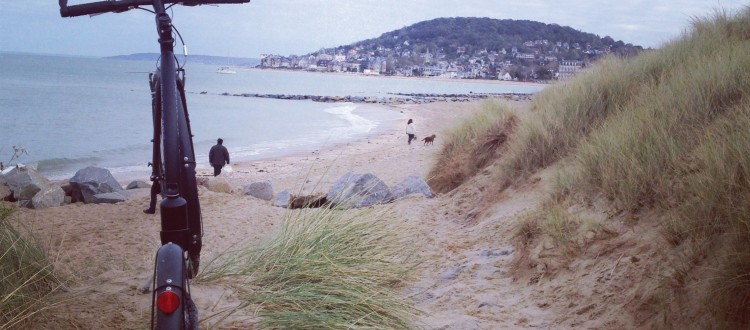 A 60km assault on Hollr Gata, called Houlgate.
'Tis told that William the Conqueror, in the year 1066, was bloqued by a stormy night at the passage of « Mauvais Pas », near Cabourg. He took shelter in the manor of Beuzeval, owned by the first Lord of those lands, whom soon followed William to conquer Britain. Sadly, Pierre de Sinville died in the field of Hastings, with no glory. The fiefdom was given then to companion Jean d'Aché, and remained property of the family for centuries.
After a number of high historical facts, nobility agreements, churches and state quarrels, the coast line of the Pays d'Auge suddenly becomes the trending location of a therapeutic tourism explosion. 1850 then, and the radiant Albion finally gives  France a taste of its own medecine : Charles Russell wrote "The Uses of sea water" a century ago, bath establishments bloom everywhere on the coast, time is of saline air and marine salt. No, salty rhymes and righty lines. No…
Houlgate (named after the north-eastern hill of Beuzeval-les-Bains), is created from scratch around 1860 : Grand Hôtel, new church, casino, myriads of wooden houses, so close from its balnear and historical neighbour. In 1882 the completion of the railway and train station between the two hamlets makes of the « Mauvais Pas » a silly and bad memory, for the road is now firm and secure from the little town to Cabourg. In 1905, Houlgate-Beuzeval becomes Houlgate.
Boudin, Bath time at Deauville, 1864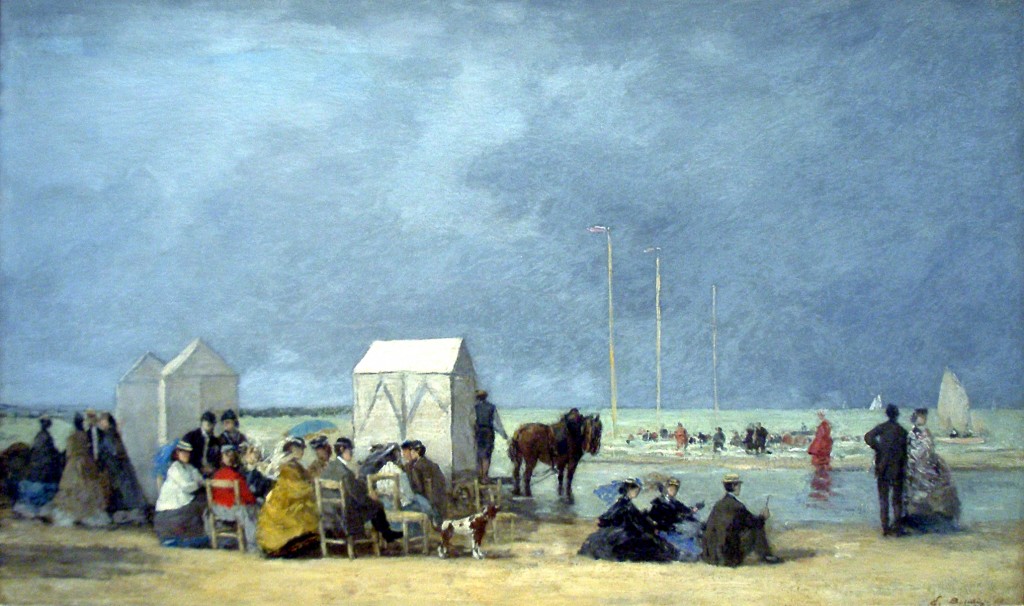 It's not really the sea call that makes me hop on the footbike on this sunday of 2014. I recall that my grandfather was sent to a thermal cure as a child. My yound nomadic psyche figures him quite easily as a Hans Castorp on his magical mountain, or as an introverted observer at « Balbec ». Seems indeed like a far away and surrealistic period. But who knows if monthes of still contemplation in the fresh air have not given the solid ederly his spectacular longevity ! When I rush out on the kickbike, I'm thinking of him, of Proust and of Mann, and the young Houlgate is in my mind too.
Soon enough, oxygen and musing dissapear from my biped's brain. Forgetting about litterature and whatever sublimations, I focus on the essential : regular activation of muscles. This ride is going to be the perfect occasion to test my new equipement kit : trail sneakers, breathing long-sleeve top and windbreaker jacket (supposedly protecting from the rain too). My former sneakers were used and raveled, kicking with them on wet, leafy or rocky surfaces would turn out as a waste of energy. I already went for a short test, the other day, eager to jump without any difficulty on trecherous trails. I looked deliberatly for unfavorable paths, and came back home rather satisfied. Today, I'll see if they can endure the long distance, and if feet fit well inside.
The first kilometers to Salenelles are easy on the legs, I appreciate the changing backgrounds as if I were sitting in a train.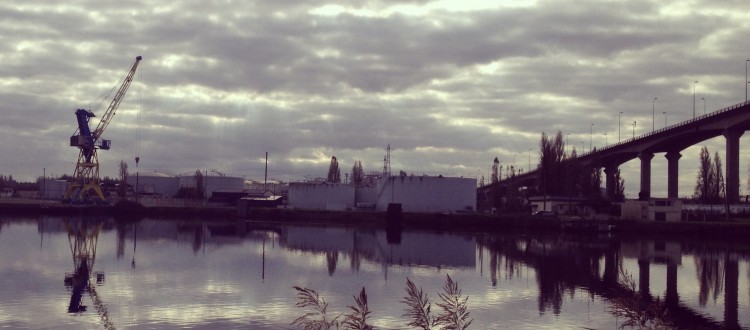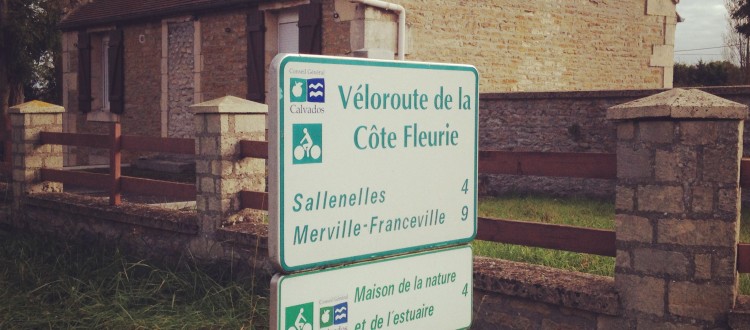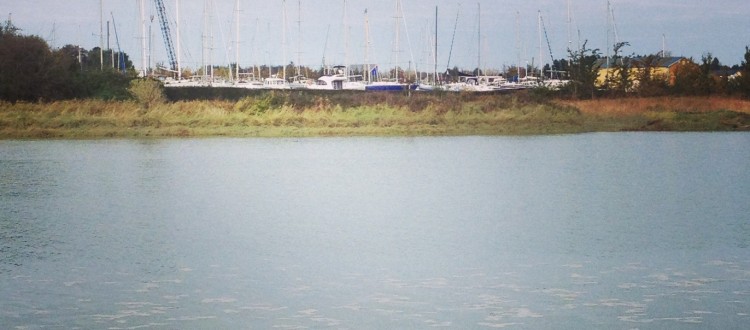 I pass a determined walker, notice his heavy bag, his light mastress, the little cane where he attached a bunch of duck feathers. I guess that he's been walking for a long time and regularly. He confirms the thought a few meters ahead, whilst I'm enjoying a little pause and chatting with some curious people. He's achieving a pilgrimage, just got off of an english boat, going on to Lisieux.
As irrelevant as it may sound to the etholog, the social anarchy of bovines is symetrically equivalent to the squadron rigour of the web-footed…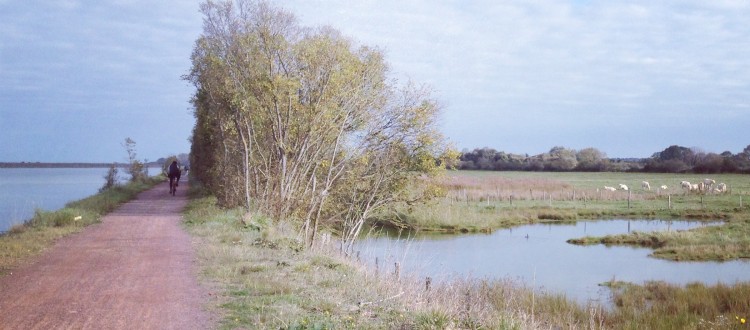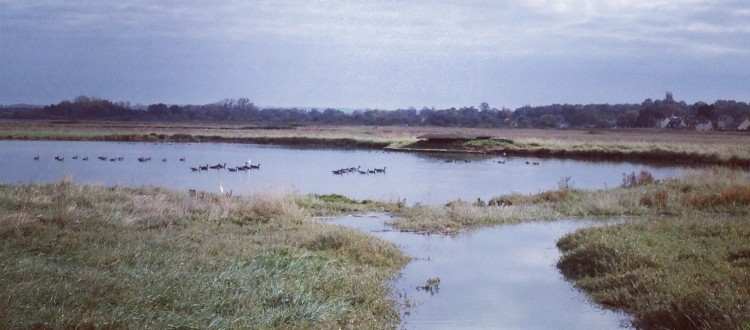 I'm now following a rough cycle track, covered with orange leaves, from Salenelles to Merville-Franceville. One which progressivly deviates from the seaside. I'm trying to stay closer from it though (same way you can ride just beside the beach at Ouistreham), and ride accross the district. But I stumble upon the Channel and end up face to face to a little striped hut : they seem to me like perfects anquoring points of the regional, novelistic fantasy of a beta tourist. I have no other solution than to ride again on the D514 to Cabourg.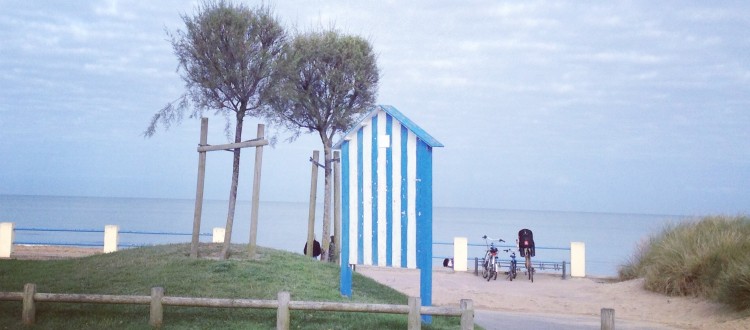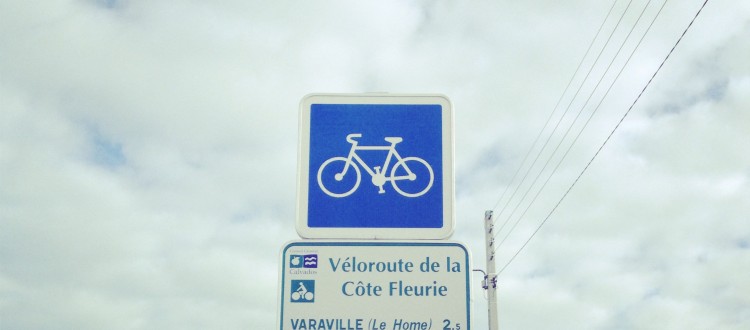 It's wide enough and I favor it to the little pavement supposed to welcome the bikes. I take advantage of the situation by getting used to kick within vehicles, by keeping the right trajectory when changing foot, in the hostile environment. The long Avenue du Président is edged with inns, plain grounds, golfs within wich elegant holidaymakers gesticulate. They swing like distracted tourists in their fifties.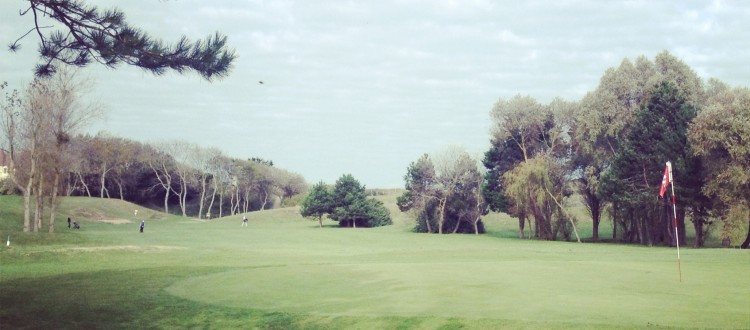 I try a strategic approach of the sea, but yet again there are no proper trails, just sand and water.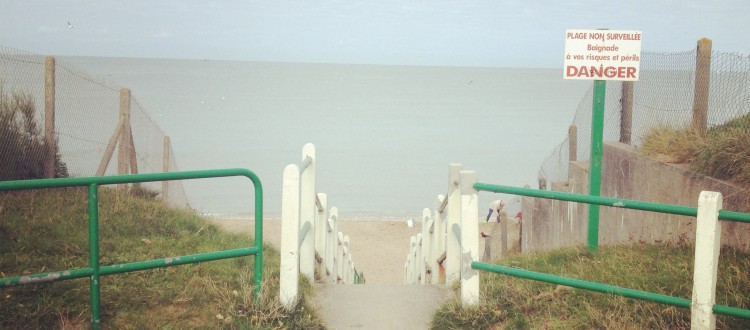 No matter, I wind up through Caboug's center, go left again, and engage boldly on the Marcel Proust Promenade !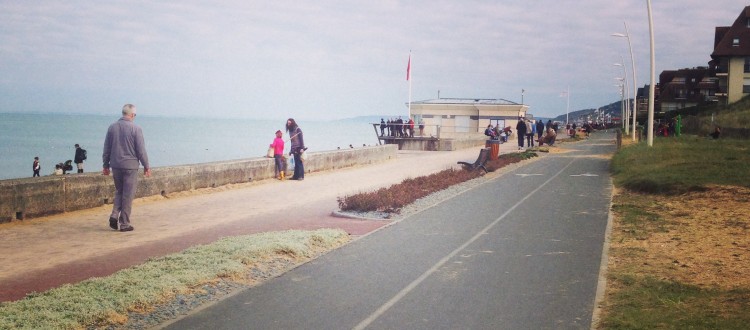 Delighted to finally enjoy the sea spray, I ride cheerfully, navigating with great awareness amongst the crowd growing thicker. The more I progress, the more higher the number of walkers eager to offer a little exercice to their legs. The Grand Hotel outlines get clearer, as well as the suspicious, reproving stares, on the esplanade where bikes are expressedly authorized, psychologically banned.
"Bikes are forbidden here!
– But it's not a bike!
Grmmpf"
Out of courtesy, because I sense that the seductive power of the footbike has suddenly turned into its contrary, and because I prefer to leave pedestrians and canines to their breath of fresh air, I finally pass the Belle Epoque show-stopper from the inside streets.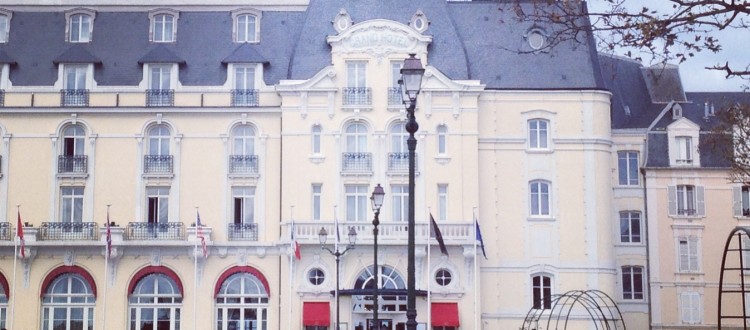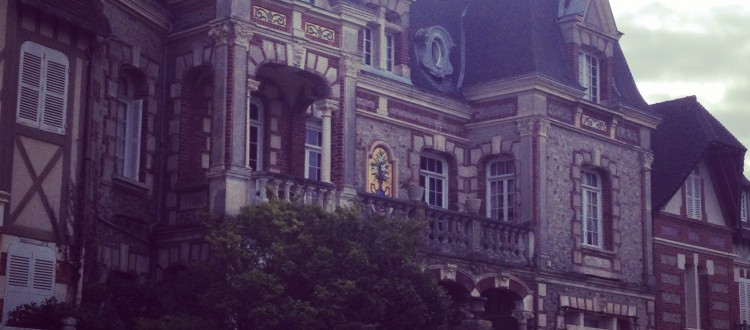 On a few dozen meters, riding, I study the typical architecture of facades. All at once, I get aware of the emptiness now characteristic of the previous walk, and wonder vaguely about a theory treating of such volatile a concentration of people near patrimonial buildings. It could be a nice illustration of Carnot's entropic law, with the possibility of going back in time. The nearer the place charged with old historical energy, the bigger the density of human particles cir convoluting around, and vice versa. Unfortunatly, I don't have any time to find a sociological equivalent, since I'm already launched on the newly deserted track, which appears to lead directly to… Houlgate. So happy to be on the run and on the shore for the next 5 kilometers, I'm heading straight forwards on a narrow sandy path.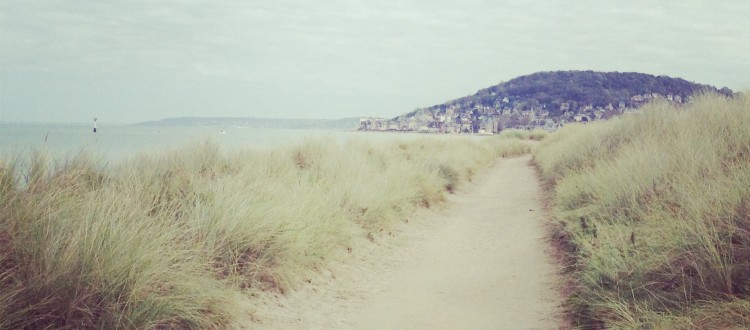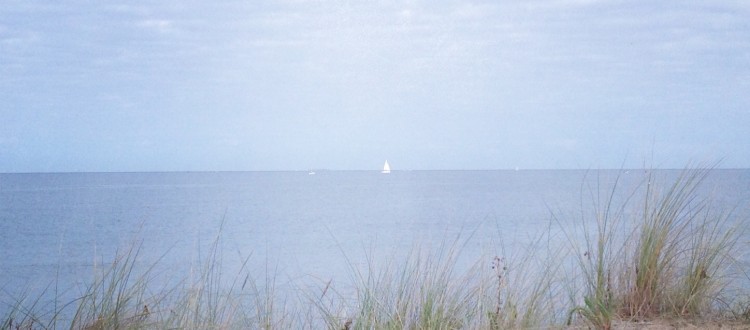 Jolly good, that liberty!  Back wheel keeps sliding laterally, loose ground, but I'm overwhelmed, the excursion is rewarding, I'm offered a moment of wild run. One which lasts… I must often hop off the bike and run, scooter beside me. Hop on, climb a dune. I decide to swerve and go near the water, thinking that wet sand might better hold the footbike's weight, would be great to kick in the water.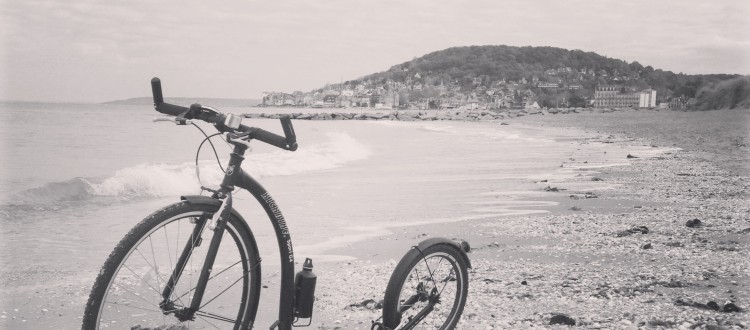 Bad idea ! I sink smoothly in the sediment, wheels grow 2 ou 3 centimeter of crust all of a sudden. It must look like I'm trying to pedal without any pedals, sadle nor effect. Quickly enough, I put an end to the foolish enterprise. Back on the hills, through rocks, brambles, branches, 10kg of steel at hand, trotting at a steady pace, I'm feeling very good, I like this little biathlon. Hilly, hazardous, made of hollow paths, « Hollr Gata » say the scandinavians. But with Houlgate the nordic in sights I don't even notive that I'm grazing hands and ankles, picking up accidentally loads of branches, manhandling the scooter, am heavily sweating… I finally get though what seems to be the last big curve, and get ready to join the railway leading to the town center.
Surprise ! In my blind frenzy, I've been driving into an isolated branch of earth, in high waters. There I stand now, empirical, the sea all around, on my right, on my left, in front of me. Oh! But there is it, the famous passage of « Mauvais Pas »! On the other side, railway, road, everything is here, the Caumont mound. I can imagine how dangerous the place could be, with bad weather in the evening, when studded hoops, skilfully set low walls would not yet maintain the hillside and seaside as they are now.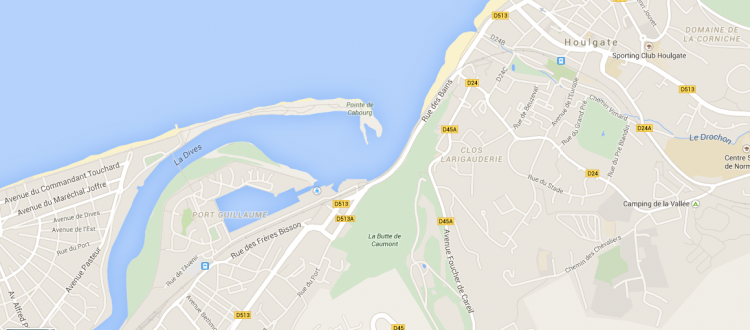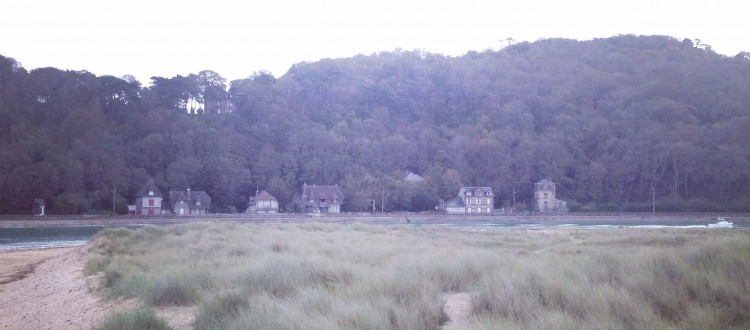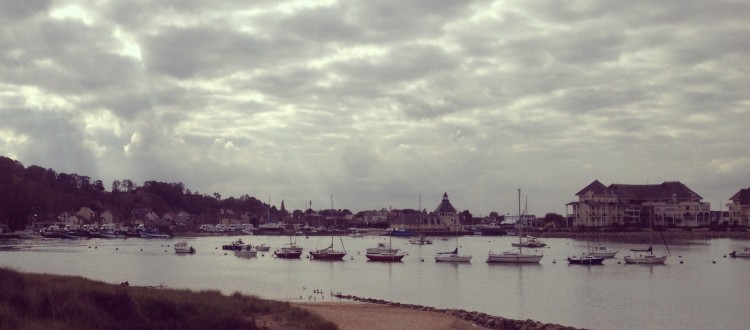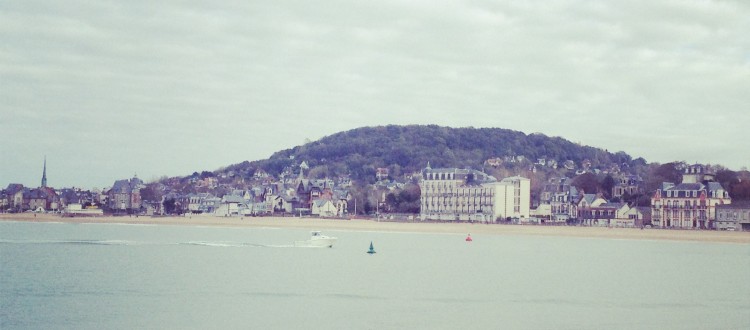 After a few scrutinous moments, thinking of crossing through, I resign to going back. I have to go to Cabourg's promenade, apparently I'm paying toll for my being a furious unpolite cyclist. I  manage to catch a nice wooden bridge before engaging versus the crowd again, and, after 3km of shared roads, I'm in! Hollr Gata!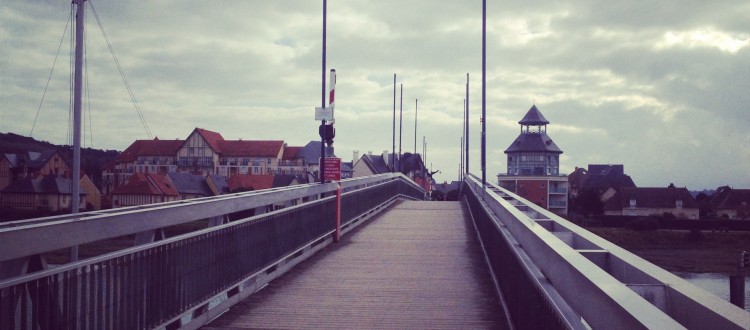 It's less busy than in « Barbec ». The wind smells like silt and monsoon, and that little white bench at the end of the promenade is where I'll make a pause to eat. Peaceful place, I soon catch my breath back, engulf bread, tomatoes, apple. I put the windbreaker jacket on, but I'm getting cold, and notice my long-sleeve top which is supposed to wick away sweat is soaked. I'll have to bring two of them next time. I strech a little, cool my mind by contemplating the landscape, I'm absorbing the atmosphere. I don't want to stay here too long because I fear the stop would be deadly for my legs, the machine impossible to start again…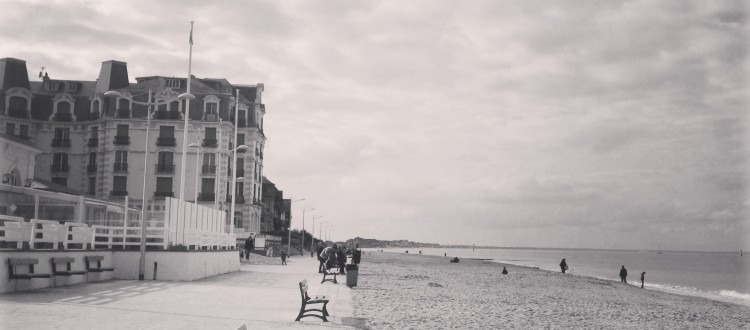 After having my tin filled up with water at the restaurant, I'm back on the road, a bit concerned. I'm now heading in the lands, going full circle to Caen. I must find smaller roads, passable paths, and find the effective rhythm again.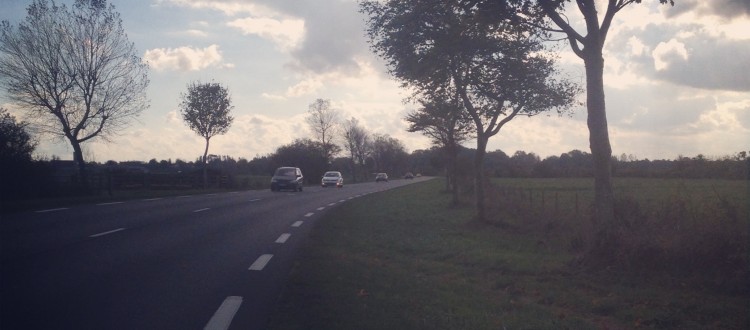 But I soon get stuck on a busy artery, with a light inclination. It's hard, I become aware that the run in the dunes has worn me out, I have trouble finding ressources on that dangerous asphalt, and keep watching out for the next car which will pass me. I stop regularly, walk a bit with the footbike at hand, try to get inspired by some beauty in the surroundings. Finally I can quit that motorized axis, and kick free again, move forward. The view is splendid, countryside it is, as it is and has lived for a long time, I reckon.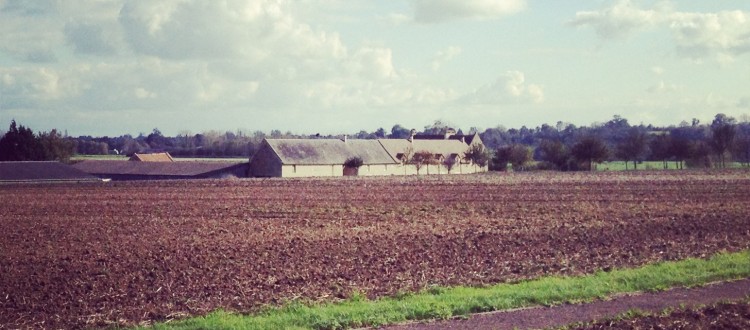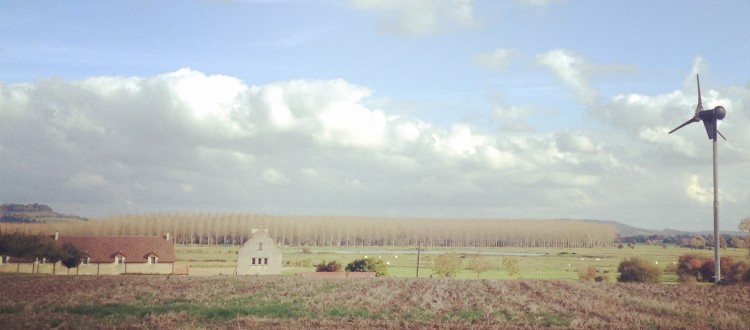 Rest of the course was a hilly trail which put my strengh to the test. A false pace, I would keep hopping off and on, walking, wondering about the way, the lenght, the next hill. I would drink often and eat dried fruits, but, I'd been tought a lesson : I had sollicitated most of my energy in an irregular and foolish manner in the middle of the day, without any real back-up at my disposal. In the last kilometers, I was simply exhausted.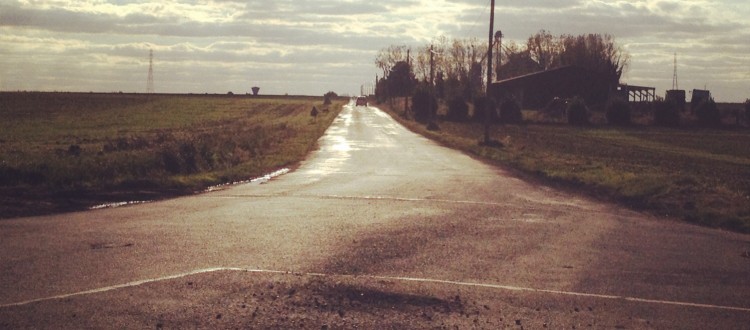 Assesment :
– one must ride regularly if one is to go far away, and always have something to feed the muscles
– one thing one can't get tired of on the footbike, is that one can stretch while rolling :)
– I finally found the good rhythm for the "flying dutchman" change, had to add a semi-bar to the left change tempo, on the takeoff movement
– I find it mentally hard to go back to destination, rather than go on to the next town
– Normandy seems molded on the edges by a historical time, industrial, touristic one. In the lands, it seemed more motionless.
Stay tuned !
13
(Thanks, keep going !)