A sunday ride on the coastline of Normandy
Hello !
Since the animal (understand the pédicycle, the scooter, the kickbike) is here, I cannot get my eyes off of him.
Hence I've decided to enjoy a sunny Sunday to explore the Green Trail heading to Ouistreham, by footbike, and kick a bit further, depending on the cycling routes available. After a few short rides, I feel ready to improve my kicking technique (the famous foot kick of the iceskater) and try out my endurance. Above all, I want to enjoy the liberty of wandering around the countryside and on the coastline, at a 15km average speed, twice as fast as by running.
First segment after Bénouville, once merrily crossed the Pegasus Bridge :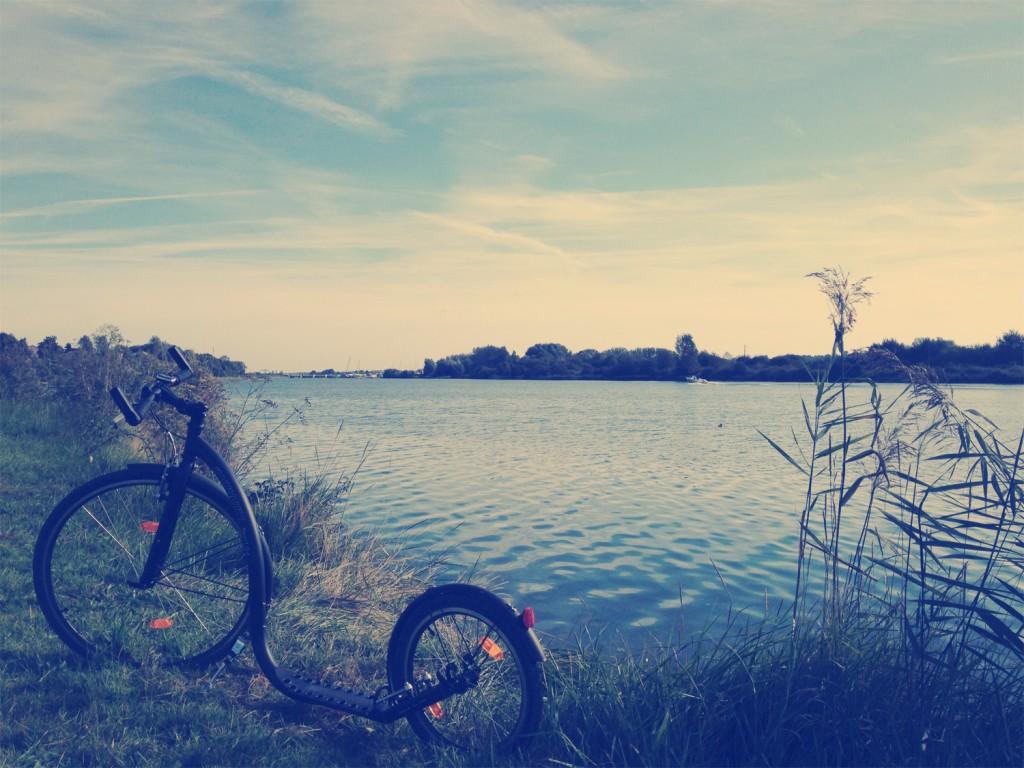 First surprises when I discovered the new sport, were an unusual pain in the metatarsus (I was probably litteraly kicking more than sliding the foot on ground), a real tough resistance even on flat route, and numerous bruises on knees and thigh (knocking on the frame at the opposite knee lifting, and during transportation !). So, I'm determined to optimise all of this…
Today I've scheduled a 45km loop, from the harbour of Caen, through Bénouville, Ouistreham, Lion sur Mer and Luc sur Mer. Then, kicking back through Douvres la Délivrande and Mathieu. I'm thinking of a day trip.
Departure at 10.10am, after the obligatory  quick walk around the open market, and preparation of my new explorer gear (adequate backpack, maintenance stuff, supplies and 1/2l of water).
A pleasurable moment, riding at the same tempo as the pleasure-boat beside me.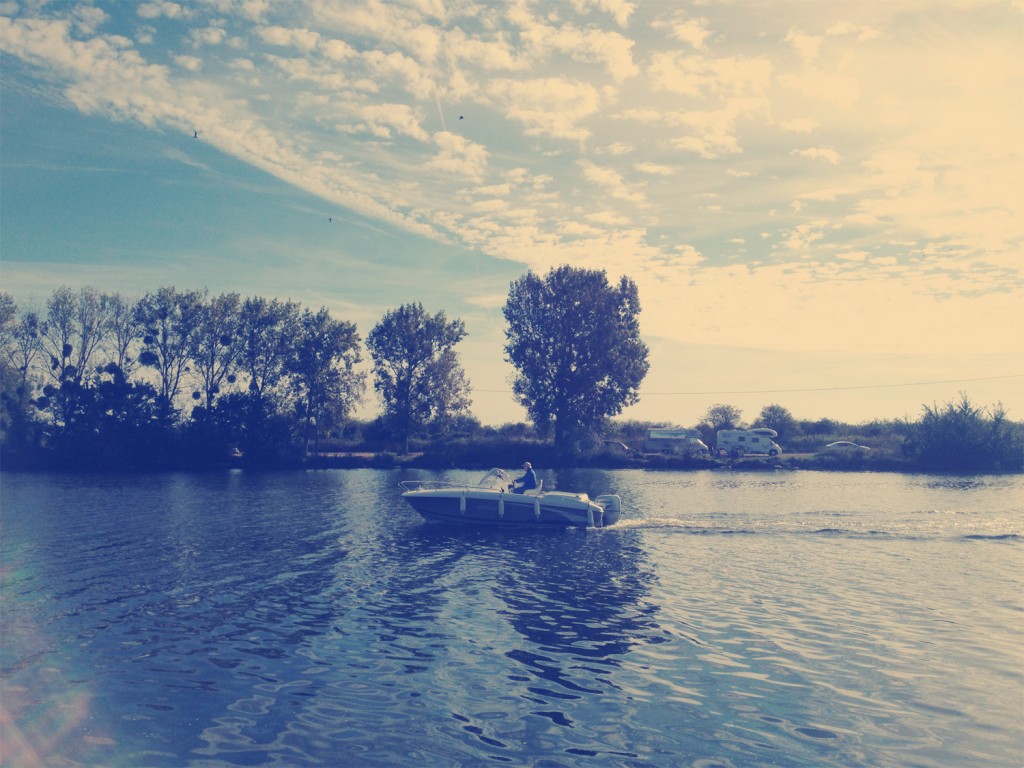 A little stop at Ouistreham's harbour, full of people – yes yes, behind me! :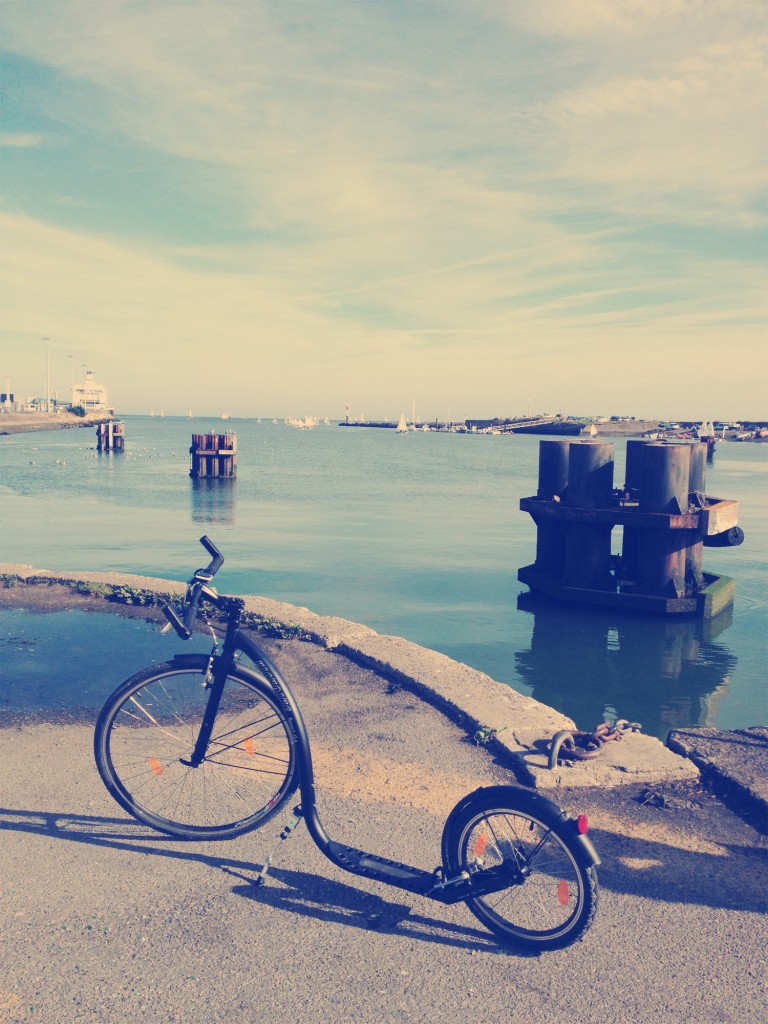 Well, the whole thing will be done in 3h10, and I'll be back a bit washed-up, and… really thirsty. But what a ride, atmosphere and landscapes !
Old cars competition, of course my footbike was quite the attraction ;) :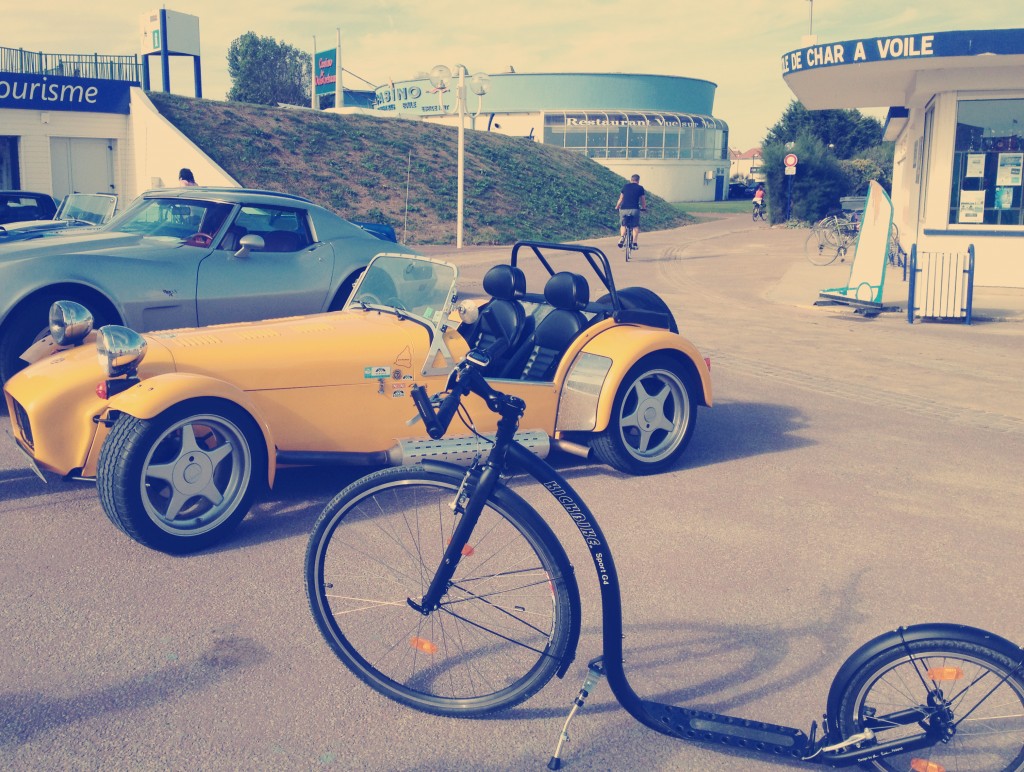 I could make my technique better, understant that regularity is friend with longevity, that no-ending straight routes are ennemies of motivation. That it is vital to optimise every movement in order not to waste any energy, specially at the change of foot, that climbings will ask for a lot a work. Finally, I'll have to adapt clothing since we are not speaking of a little run without sweating (I have to have a towel and a dedicated top).
Trek's assessment :
2 nice chats with people, curious of that strange carriage, I feel like an ambassador !
1 marvellous Green Trail to discover
a very sunny sunday with marine wind perfect for a ride
a little highspeed peak at 44km/h in a descent, to finish
unforgetable stiffness the day after !
A magical moment on the beach, with a horserider training its magnificent charger :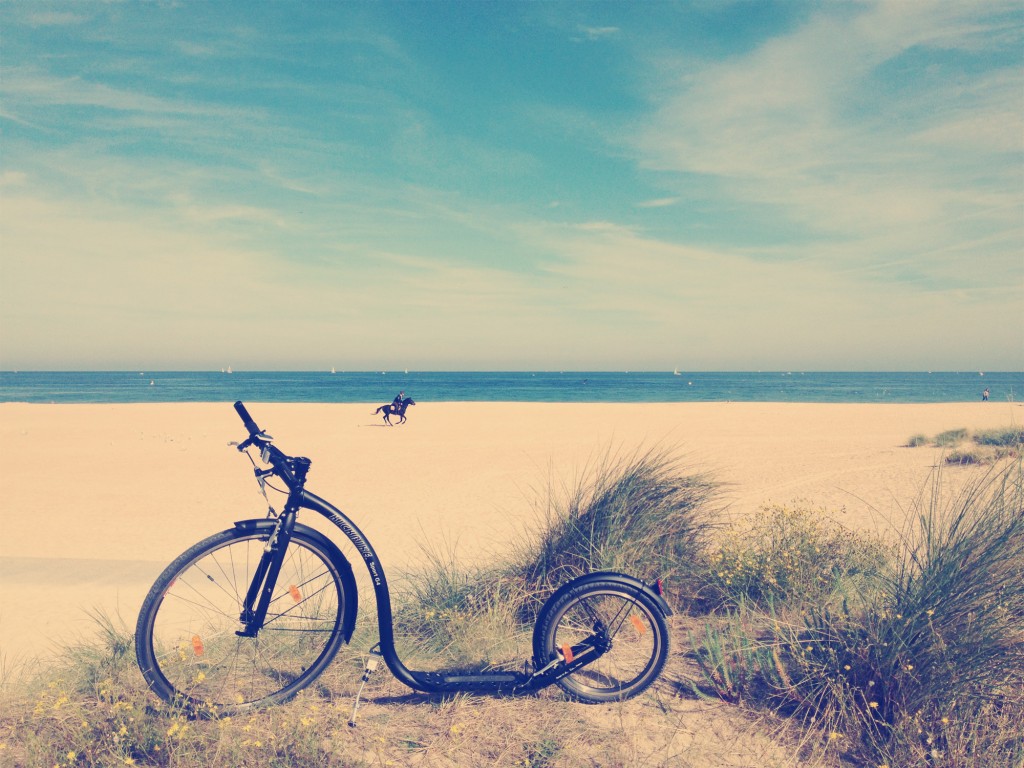 Quick lunch on the  pier – Chris Marker was around :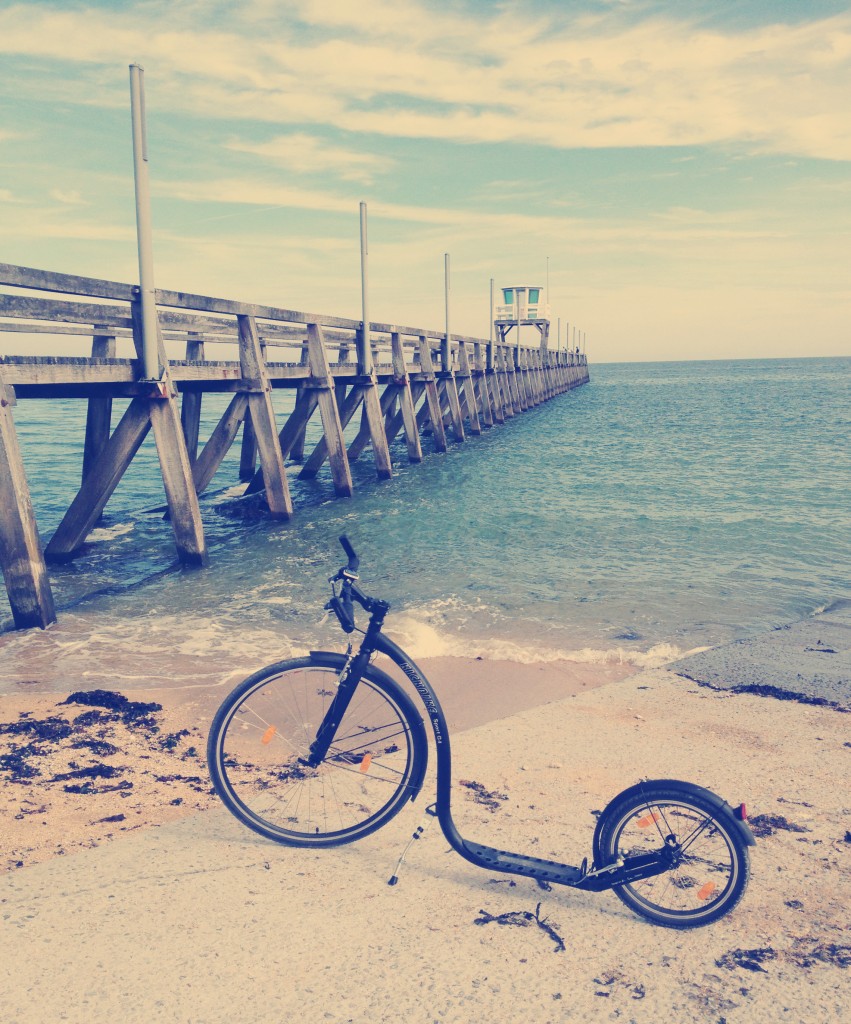 Getting close to Mathieu, totally deserted at this hour :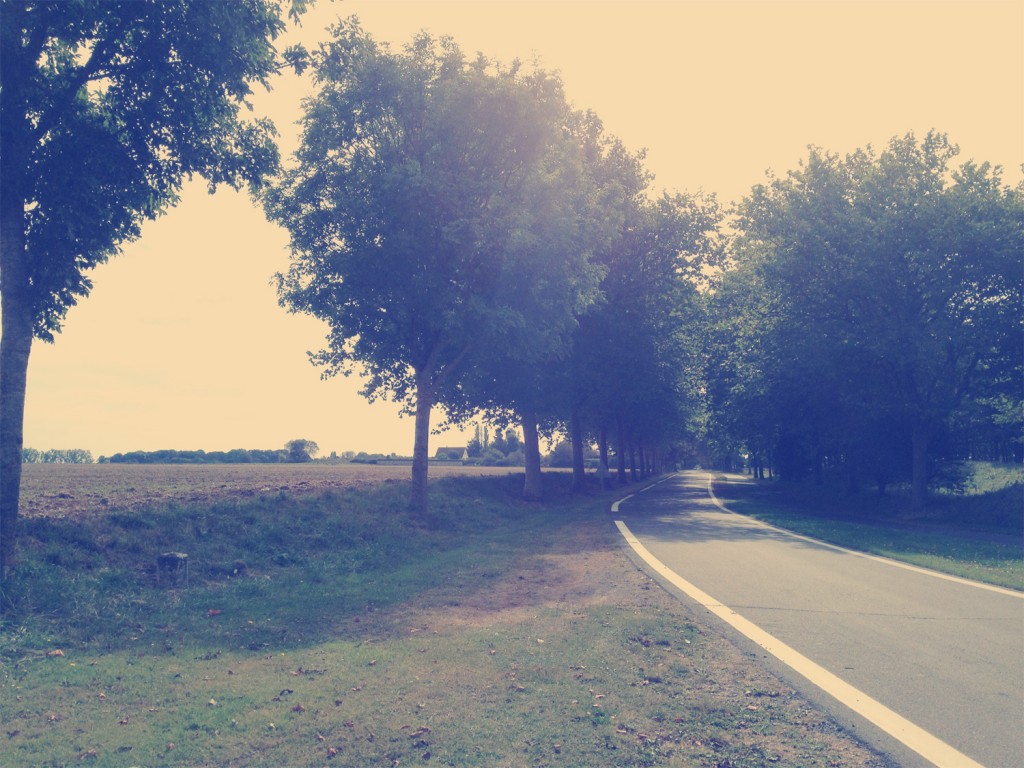 All I wish for is to be back on the kickbike !
Next steps :
Caen/Cabourg and going back
2 or 3 days towards Etretat
riding on the seaside of the Cotentin, to reach Cherbourg and the Pointe de Hoc
very impelling projects, with on-going preparations, soon to be revealed, I hope !
Stay tuned !
La Trottineuse
:)
12
(Thanks, keep going !)