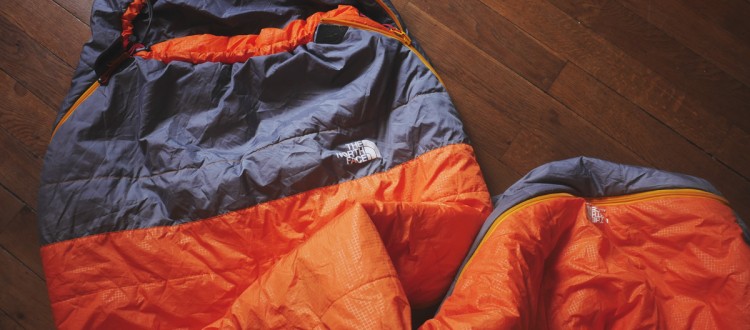 About some pieces of gear, following Nantes-Budapest
A gear post, after the Nantes-Budapest challenge.
After no less than 2600km and 35 days of intense use (some of the material has been used for a double amount of distance), here are a few feedbacks on gear I was equiped with. This article is not sponsorised.
DRYBAG 4L VAUDE, X2
I used them for food, cooking stuff (stove and cookware), and maintenance ustensil for the footbike. They were fixed on both sides of the frontrack, with clips and adjustable straps. They endured vibrations and continual frictions on various fields.
waterproof: perfect
strenght of fabric: I indelicatly put some sharp tools in the bags, and it ended in a small hole on one place and some tired fabric on some other places. Otherwise, I'd say the quality was quite good.
practicality: great for a light-weighted spirit, though the up part needs to be rolled many time in order to have a real watertight bag, thus losing a good amount of space of the 4L.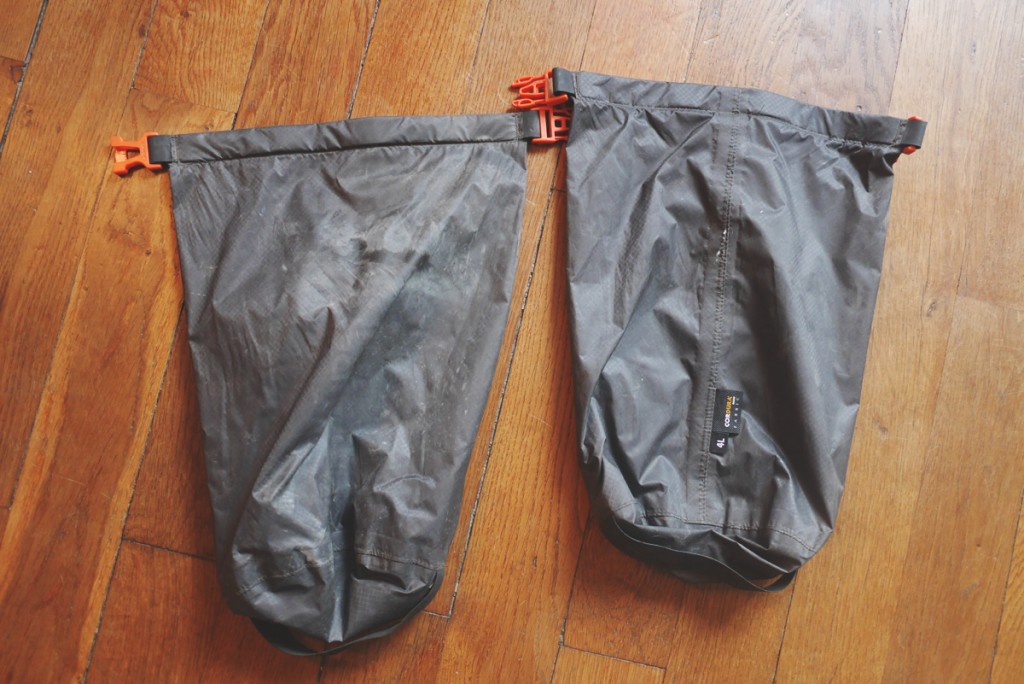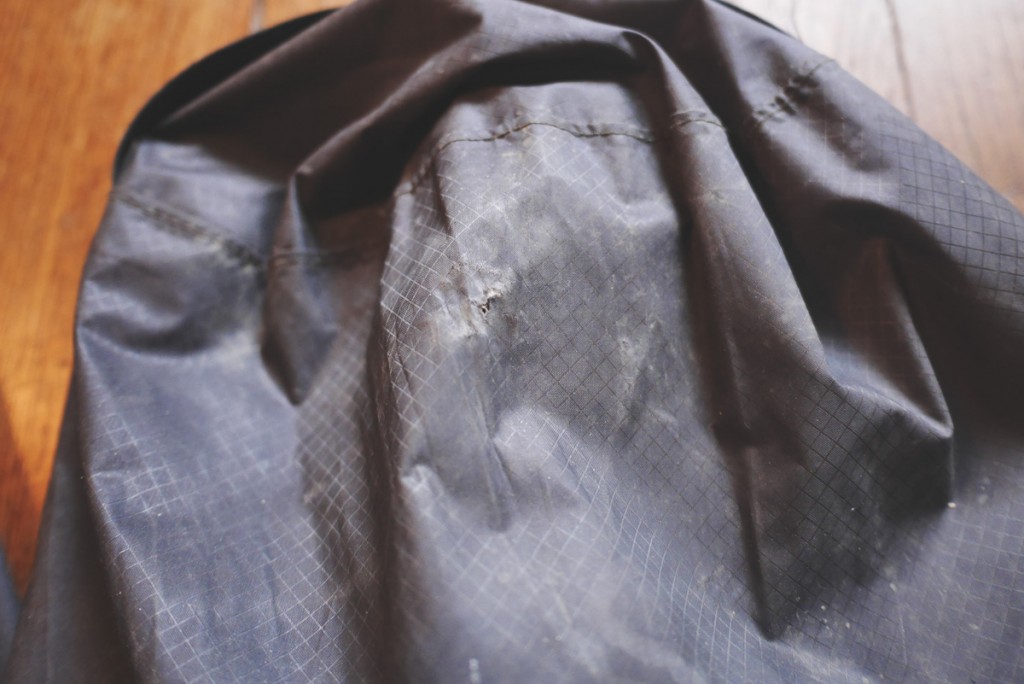 BACKPACK MINIMALIST 35 VAUDE
Ultra light, with silicon rubber. I removed the dorsal plate for a loss of weight (a total of 800g with the plate). Top loading, lots of tightening cords and adjustable clips to adapt the whole thing to one's needs. Two interior and exterior pockets on the top flap.
practicality: external lateral strings were very useful to put the floor protector sheet. The two top pockets, with a good amount of space, were nice to put the daily fruits and bread needed, with a book and some electronics. In the internal back pocket, I would put the folded matress, and in the main space my clothes, a pair of evening shoes, and the sleeping bag in bulk. The top opening annoyed me sometimes : if I'd forgot to put something in the right order, I had to get everything out again, and to compress the whole thing, had to maintain it standing, which was not easy on sliperry floors (like a tent) due to its heightened form. Next time I'll be looking for a bag with a front opening that can be filled up flat wise.
fabric resistance: I don't know if I exceeded the regular contenance, or if tit is he moves on the footbike that caused big rips on different places. The bag was not heavily charged, but it craked quite early in the trip on the top flat, and then on the bottom. A bit dissapointed with it, I found it was a bit quick to show such signs of weakness.
On the other hand, the sewings of main straps, which I was then thought would crack, have perfectly well resisted the tight fastening.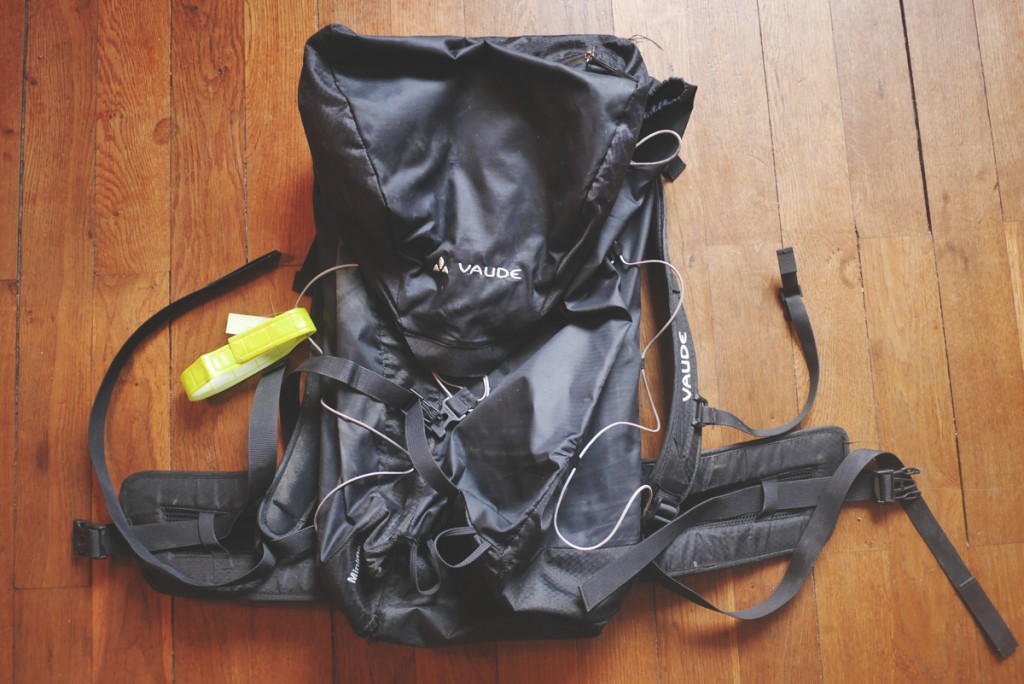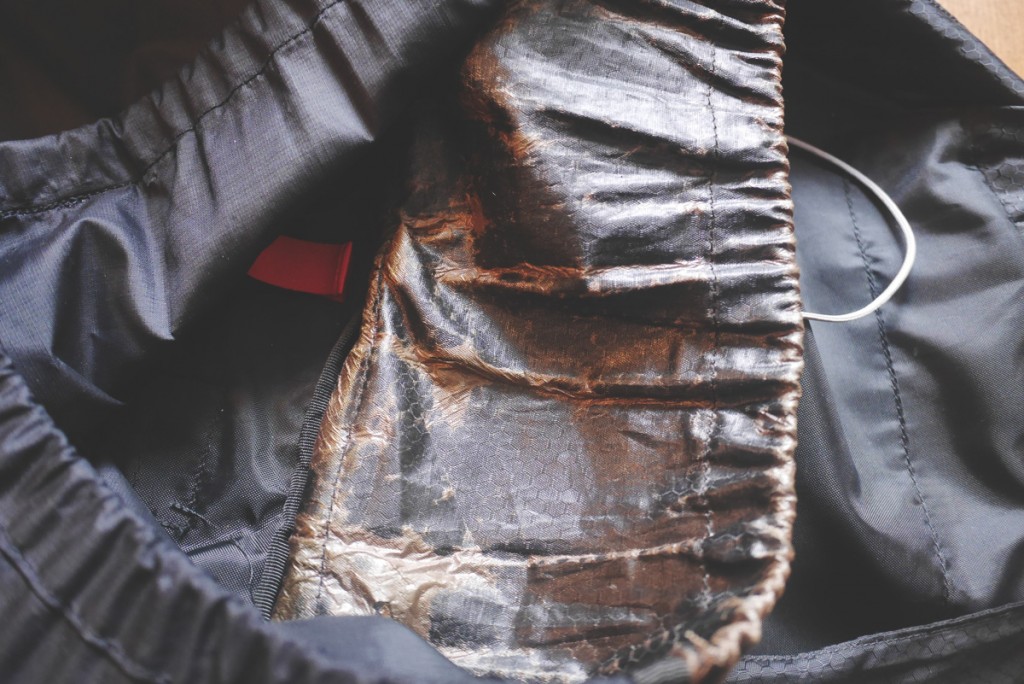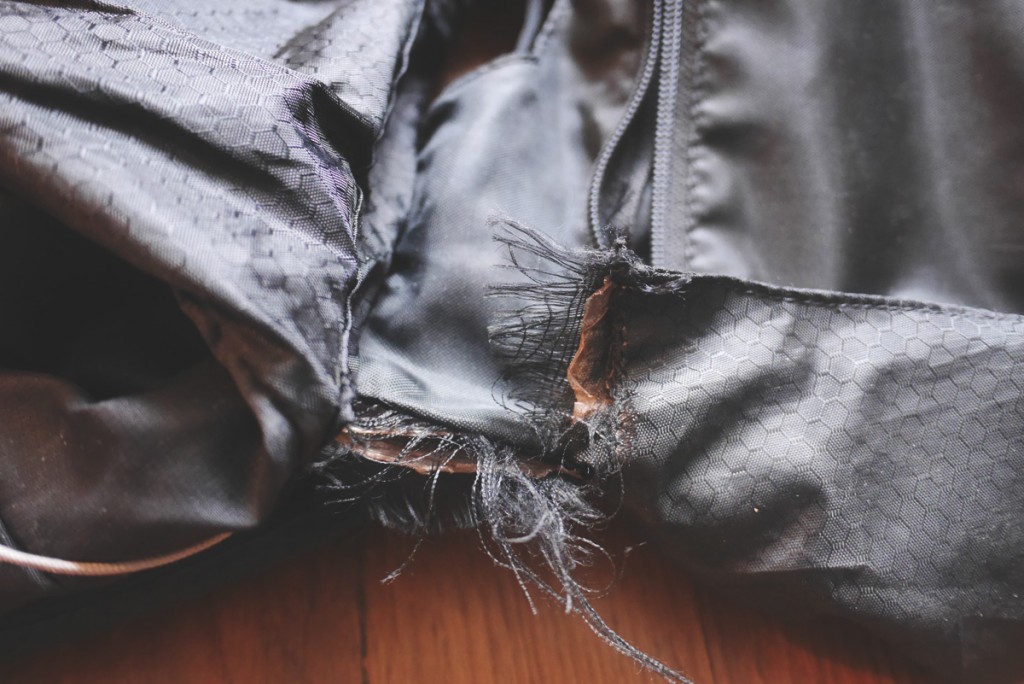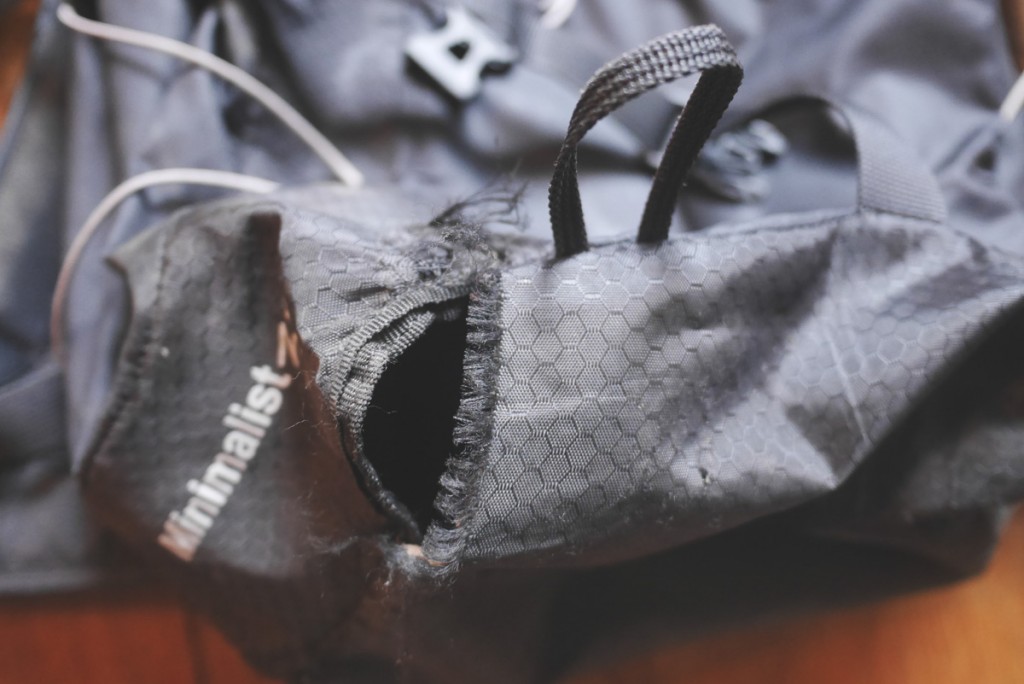 COOKSET SNOW PEAK 900
Titanium cookset, 166g for 900ml of contenance (mainpot), provided with a top frying pan of 490ml.
It was great for solo and fast cooking. I could stock some food supplies in it, or I could have put the stove in, it fitted perfectly well, for a saving of space. The frying pan is a real bonus.
Everything resisted well, but has not been yet subject to harsh conditions. Handles are a bit delicate, specially with fire, one must really wait for good embers before putting the pot on the wood stove, other wise flames will easily damage them. The orange spork Light my Fire broke in two in the middle of the trip, quite easily, it has to be manipulated softly.
MOUNTAIN FEEDBAG
An ultra light handlebar feedbag (100g),Three layer construction: outer fabric, foam and liner, 1,3L.
It proved extremely useful, keeping at hands a number of elements without having to open my backpack or draybags. I'd put in it my smartphone and earphones, dryfruits stocks, knife, life whistle, lip balm and cereals bars. I don't think it's really waterproof (my phone died this week after 2 hours under a big rain, but it was already quite damaged), it's insulated, nonetheless it protects quite well things that are placed inside under average wet conditions. Very useful and not bulky, I'm thinking of having a second one on the other side.
SLEEPING BAG NORTH FACE ALEUTIAN 35/2
1062 g, 3 seasons synthetic sleeping bag, Heatseeker Eco synthetic insulation, Wraparound footbox zipper and Short side zipper.
Very well thought with the zippers and features. I found it a bit cumbersome given my small height (I was not using any compression sack in order to avoid fibers tearing). It did the job perfectly, in a hot summer, it was not hard. In March 2015, I've endured cold nights that were not so comfy, though above 0°C. Probably should double it with a liner in colder weather.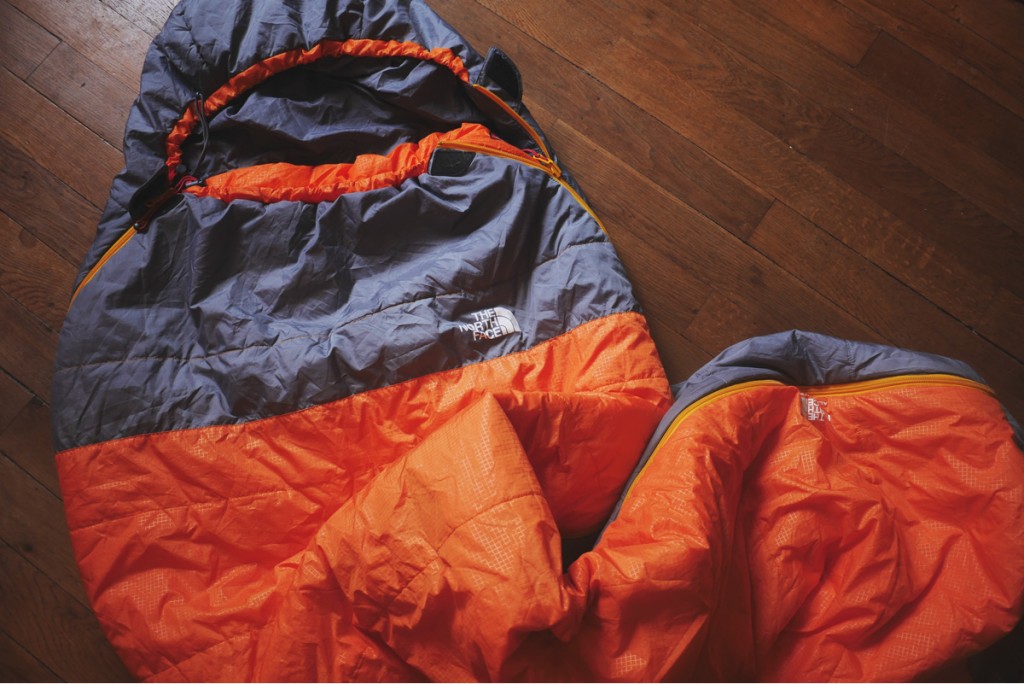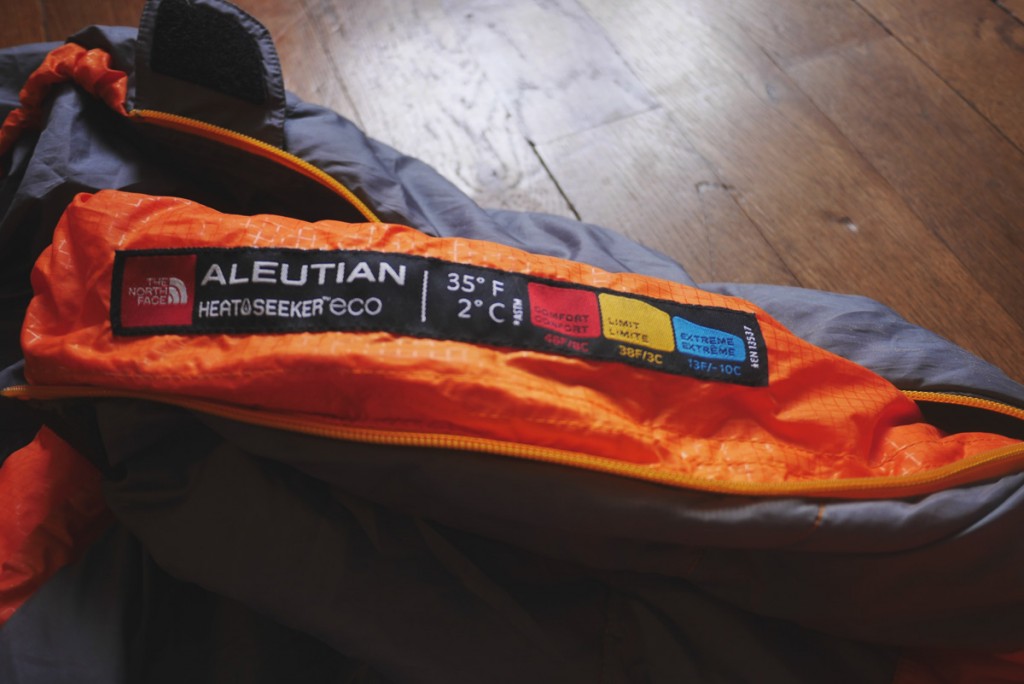 TARPENT RAINBOW
Somewhere between a tent and a tarp :) (look at the pictures from the adventure).
It's an ultralight (910gr !) monowall tent made in silnylon, that can switch to standalon with walking sticks.
Bottom of the walls are made of mesh, but depending on the pitching you can be more or less insulated, having a view on the outside or not. The bath floor allows protection against wind and water.
I like its height when sitting inside, the fact that one can mount it so quickly (just on pole), its ultra light weight, and its shape.. It takes so little place that I can fix it between the handlebar and the front rack with two rubbers. Vibrations and frictions have though damaged the external bag.
One has to coat sewings to make it totally waterproof, and has to be precise : I've noticed that junctions with the internal rubber bands were a source of a regular droping that would end in a little swimming pool in the morning :) Pegs are ultralight too, but I broke two of them whilst stiking them in a ground not so resistant with my foot…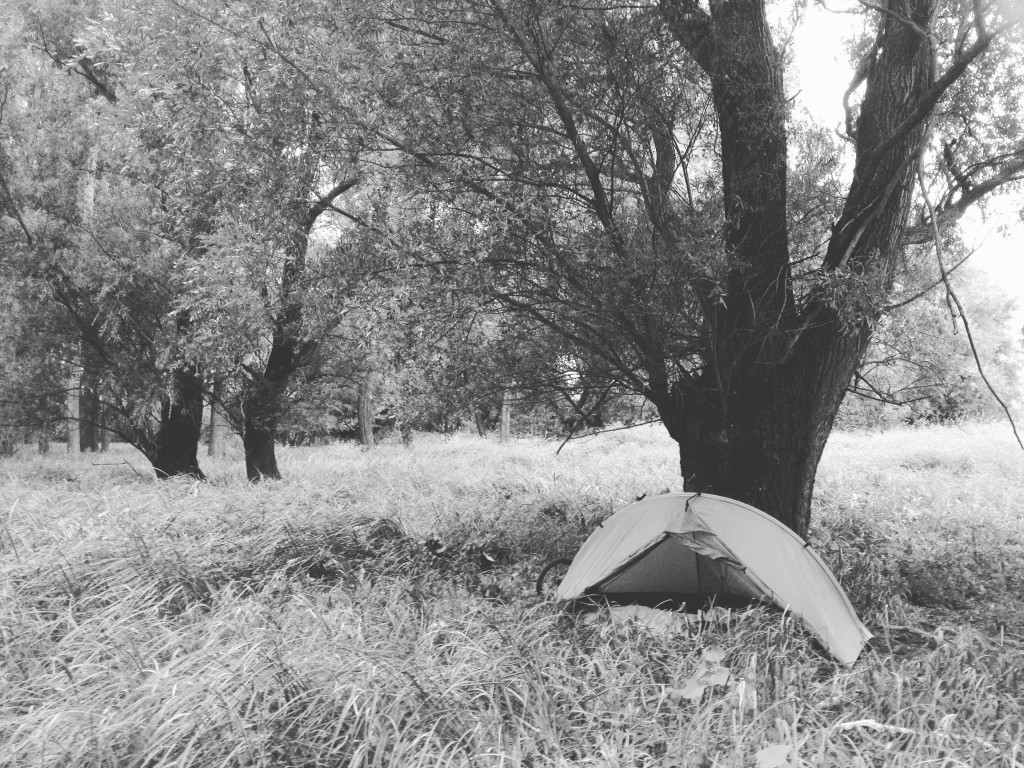 TRAIL INOV8 ROCLITE 275 GORE
I've been kicking with them from the begining, more than 5500km ago. Very satisfyed with the kick, a good grip. After so many km, they are quite wear off, but given the unusual usage I've made of them, I find them an interesting investment. I have unfortunatly no points of comparison on this day, regarding the endurance of their sole. They are comfortable, and their gore-tex coating helps in keeping dry for some time under the rain. Yet, they are not waterproof, walking in early morning in tall grass covered with dew is a guaranty of starting the day kicking with soaking wet feet !
before use : it was full of big gripping elements plus a layer of pics for adherence that have been totally eaten !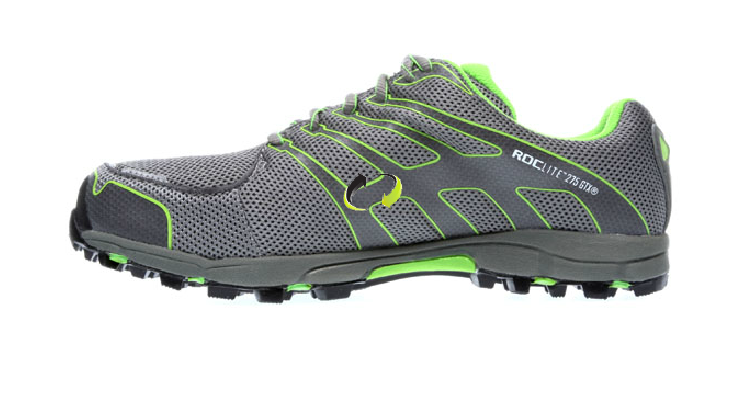 DROP JACKET III, VAUDE
A cycling breathing jacket, ultra light (160g) windbreaker and waterproof, made of active ceplex. Part of their eco-product Green shape line (on the site : "Green Shape is your VAUDE guarantee for environmentally-friendly products – made from sustainable materials and resource-conserving manufacturing. Our Green Shape evaluation system helps us with this goal. You can find detailed information about > which criteria Green Shape products must fulfill > the Green Shape percentage in the collection > which materials and technologies we use ".
Ultra compact, it's true, and ultra light. Nice to wear with good visibility (flashy colour) and reflexives elements on the back. Regarding esthetics and superficiality, it bends a bit (because of the rigid zip) and I found it a bit large on the shoulders. It's a good very protection against wind (wear it in the morning when heating up, and at nights when cooling).
I felt a little lack of aeration, but in a heat wave and the efforts in the kickbike, I believe it is inevitable. I thought that it was retaining a bit too much huminidy though.
I can't figure out if it's a very good waterproof piece, because of the condensation during the effort (tested under heavey rain for more than an hour) it was impossible to stay totally wet.
For such a compact, light and highly technical product, I think it's of very good quality overall.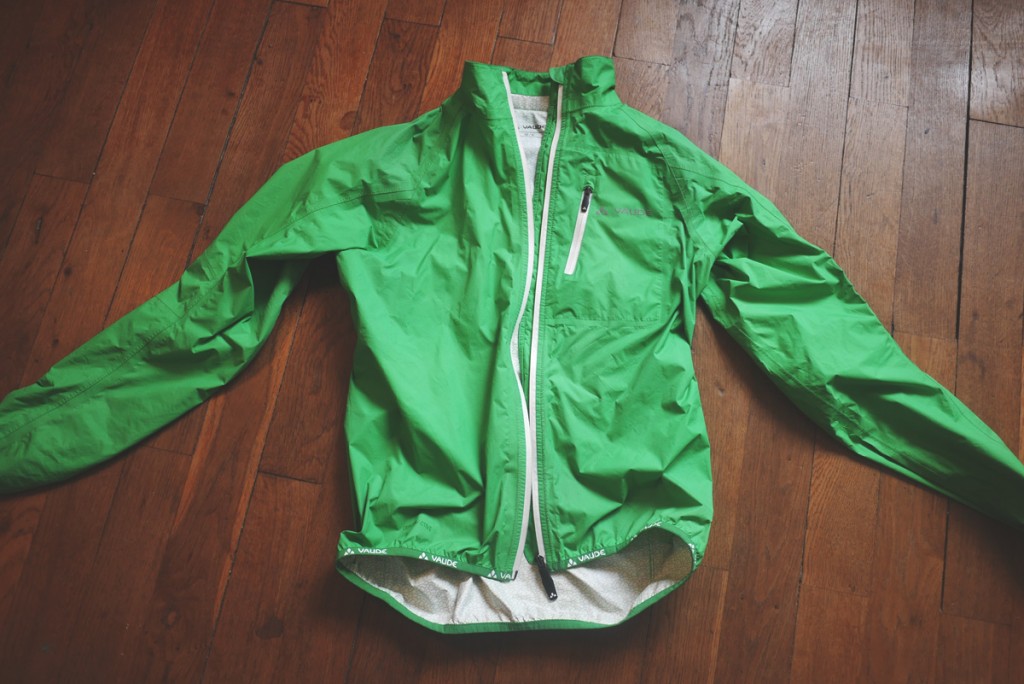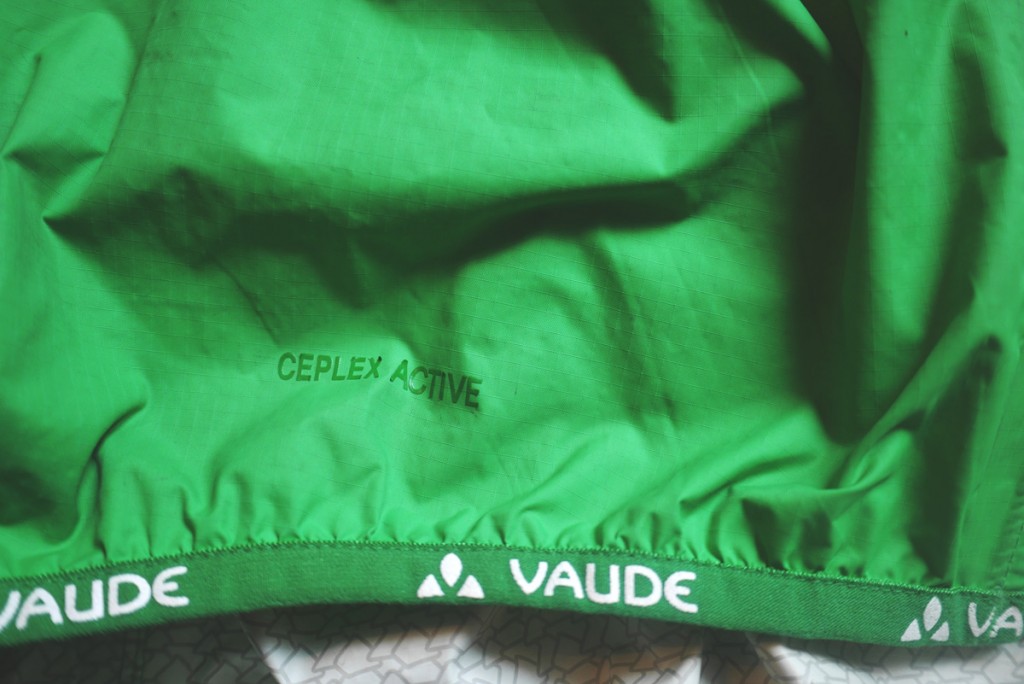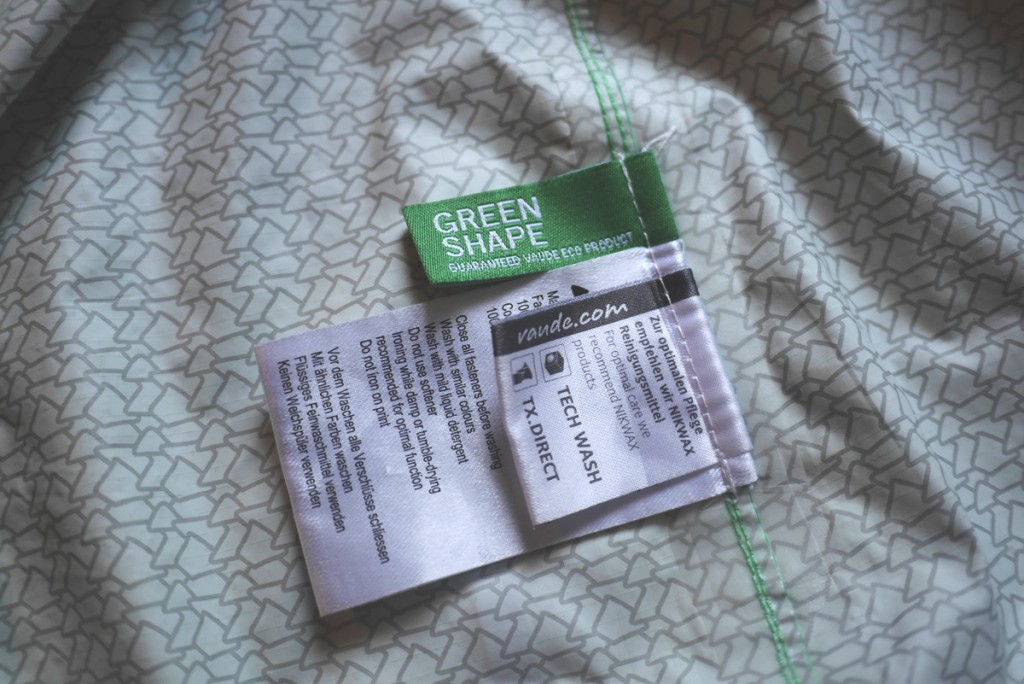 RACKTIME TOPIT
An aluminum frontrack, weithing 520g, able to support 10kg of charge.
Compared to the poor quality rack I'd been using on the Velodyssee (fixations broken in a week, from cold/rain/sand), it was a dream :)
For now, nothing special to say, unless a small difficulty in the mounting on the handlebar tube, since the nut is a bit bigger than the space it is supposed to fit in. Once it's forced in, one can not screw further, but the advantage is that it can not unscrew itself neither.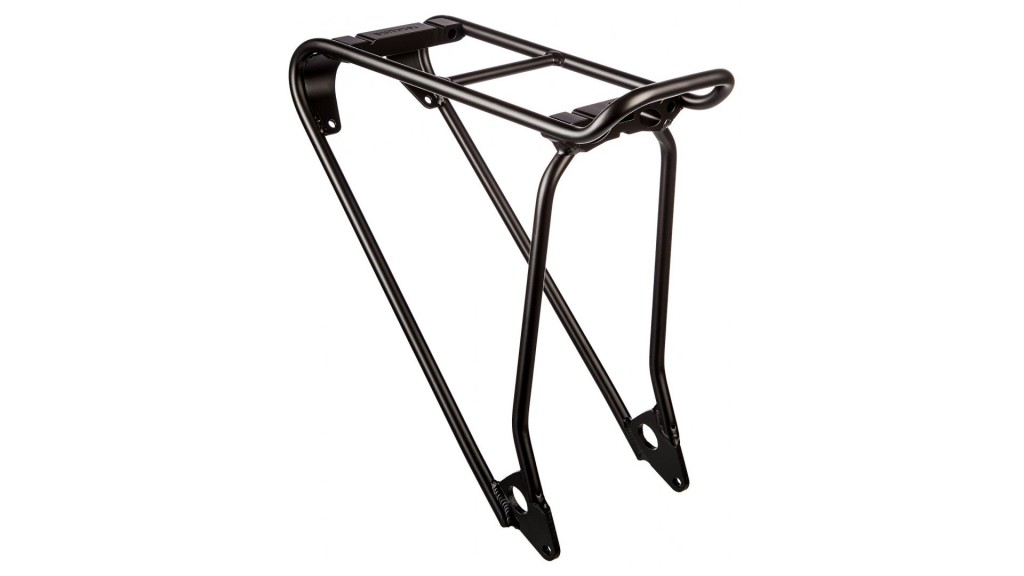 THERMAREST EVOLITE MASTRESS
An hybrid mastress : the stuffing moan inflates alone, and one completes the firmness if the whole by blowing air through the dedicated valve.
It's a gain of weight thanks to the alternance of empty zones and moan parts (360gr), while staying comfortable (5cm thickness).
In the small size (119cm), it represents yet again a gain of weight and space, comparing to long matress. Good for summer and spring, but as soon as it's colder, bottom part of the body isolation begins to be a problem.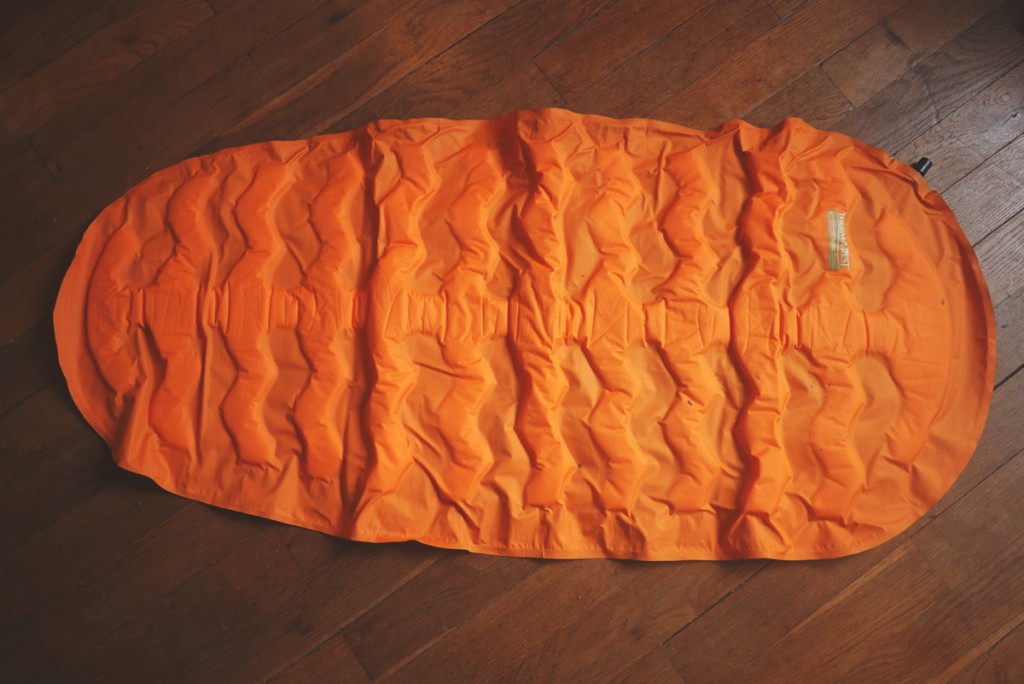 VOLTAIC KIT 17W
A light weighted complete kit, featuring a photovoltaic solar panel and a V72 battery to charge up phones, tablets, portable computers and DSLR. For 1,3 kg. Details about voltage and capacities can be found on the website, for the geeks :)
I'm half satisfied with this, partly because I think I made a mistake by choosing this model of panel, though quite light. Its rigidity did not match with my way of traveling and the machine, I was forced to fix it on the front of the footbike (on the bag) whilst having to link it to the battery which was in the inside pocket. With its very short alimentation thread, it was not easy. I'd say it's more dedicated to charge in day ends or when stopped. Unless one has a bigger mean of transportation or more options.
The connection tip broke quickly, unsoldered: it was impossible then to count on a 100% solar energy. I would recharge the battery entirely when accessing ground power. The battery was on the other hand perfect, allowing me for the following days to charge my smartphone (about 5+ times), the only electronic gear I had to fuel up eventually. It'd have to be tested with a laptop and a DSLR in supplement to see if the configuration would suffice.
I think on investing in a folding solar panel next time, in order to put it more easily in a small bag, and continue to use that battery. It had to endure many bumps and vibrations during the trip, but resisted well, though coming back with some scars ;)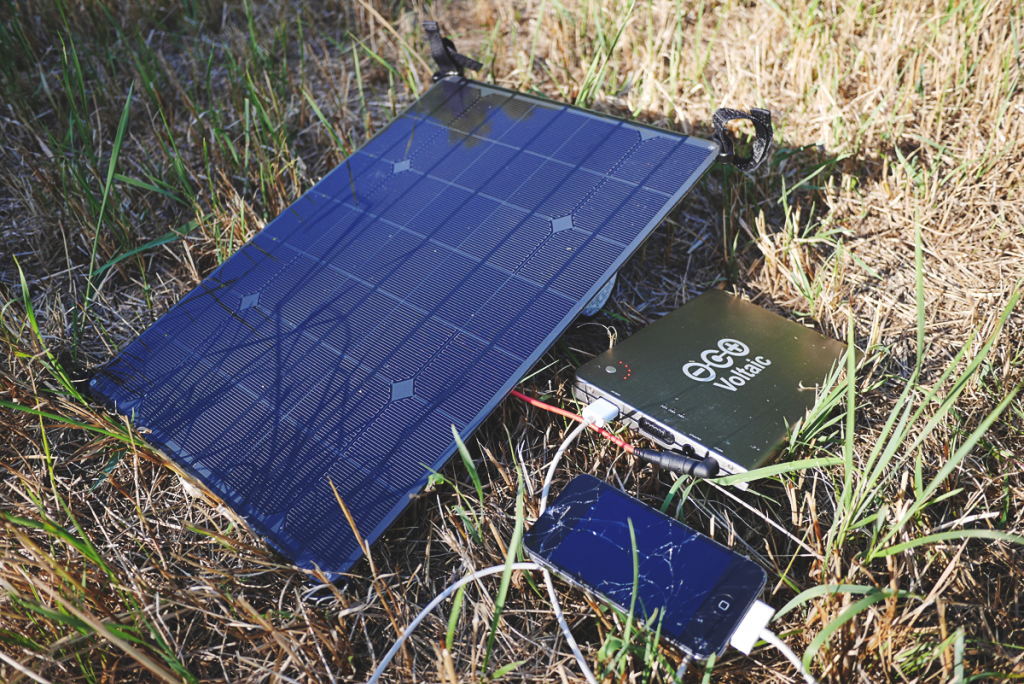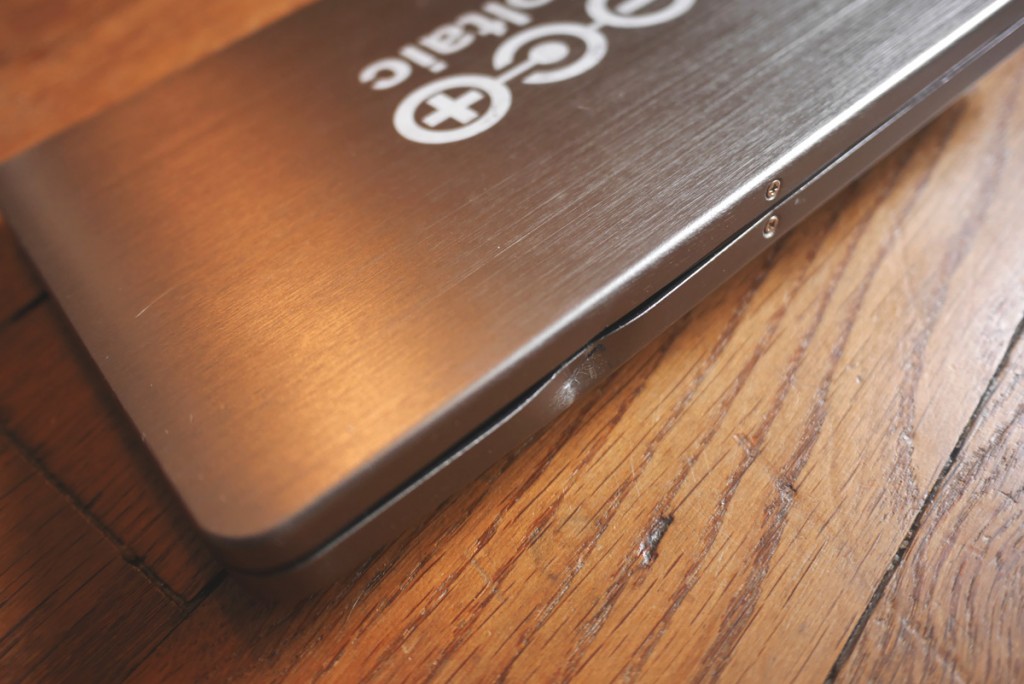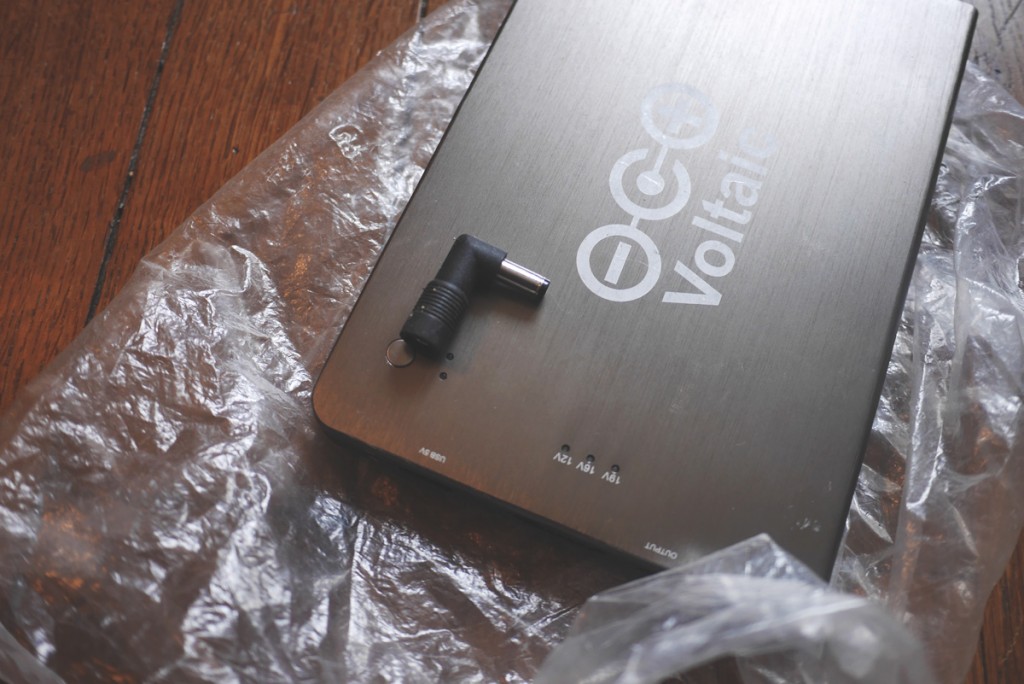 1
(Come on !)